Close
UHV business students compete at conference, hear from marketing expert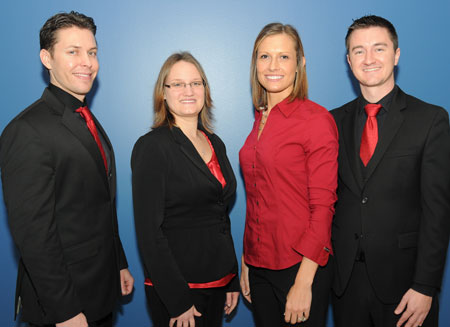 Ryan Becker, left, Amanda Dowlin, Angela Thacker and Joseph Kanewske celebrate after winning first place in the case analysis competition during the Fall Bachelor of Business Administration Conference.
SUGAR LAND – No matter where people come from, they can succeed if they persevere, marketing expert Christine Hollinden told University of Houston-Victoria business students.
Hollinden, founding principal of Hollinden Professional Services Marketing, was the keynote speaker at the university's recent Fall Bachelor of Business Administration Conference, attended by undergraduate UHV business students.
UHV's School of Business Administration holds the conference each semester at UH Sugar Land, where UHV offers many programs. Every semester since 2007, about 100 UHV students enrolled in "Strategic Management," the capstone course of the BBA program, have attended the conference and competed in teams in the presentation of a company case analysis.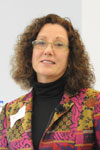 Christine Hollinden
"Our students look forward to the conference because it gives them a chance to apply what they've learned in class and the opportunity to hear some very distinguished speakers," said Farhang Niroomand, dean of the UHV School of Business Administration.
At the recent conference, 26 teams competed by presenting case analyses about Noble Energy. Members of the first-place team were Ryan Becker and Joseph Kanewske of Houston, Amanda Dowlin of Cypress and Angela Thacker of Katy.
Winning wasn't easy for the first-place team, said Becker, who served as team leader. He and his team members met weekly throughout the semester via online chat and video conferencing to prepare their report of almost 100 pages and their conference presentation of about 40 minutes.
"We were pretty organized, met frequently and didn't allow anything to slip through the cracks," said Becker, who graduated Saturday and plans to enroll in a Master of Business Administration program to prepare for a career abroad in finance.
The rigorous, semester-long project strengthened their analytical skills, Becker said.
"It gives you that underlying mental framework you need to assess a problem," he said. "It will now be a lot easier for any of us in the future to dissect a company's financials."
Members of the other winning teams were:
Second Place – Katy residents Wanawan Cahoon, Jessica Gulizia, Michael Gulizia and Michael Tibbetts.
Third Place – Brian Butler of Richmond, Thomisha Nixon of Katy, Jessica Ramirez of Missouri City and Domenick Riccio of Leander.
Placing team members each received plaques recognizing their accomplishment. They also will be invited to serve as panelists at future BBA Conference events.
"I think that teamwork was key to the whole thing and that goes for winning or not winning," Thacker said. "We were shocked to win, and I think it's because we didn't really do all that work for the purpose of winning. We just wanted to make a good grade in the class. At the same time, we felt all the time put into the project was well worth it."
Aside from the competition, Thacker said she appreciated the keynote speech by Hollinden, a UHV alumna and marketing consultant who advises professional services firms.
"Her message was about persevering in the face of obstacles," said Thacker, a senior in the degree program. "She was a small-town girl who didn't have a lot of opportunities and kept having doors slammed in her face, but instead of giving up, she found alternative paths. I really admire her persistence."
Hollinden holds the Certified Professional Services Marketing designation and is a Kolbe Certified Consultant. She teaches "Social Media for Business" at Rice University's School of Continuing Studies. She previously served as an adjunct professor of marketing at the University of St. Thomas in Houston.
Before starting her firm in 1993, Hollinden was director of marketing at KPMG in Houston, regional communications manager for Coopers & Lybrand and marketing coordinator for Grant Thornton. She earned her BBA degree from UHV in 1985 and her MBA from Texas A&M University.
Her speech was part of the Willis Group Distinguished Speaker Series. The luncheon was sponsored by Regency Nursing and Rehabilitation Centers Inc., Geico and WG Consulting.
The University of Houston-Victoria, located in the heart of the Coastal Bend region since 1973 in Victoria, Texas, offers courses leading to more than 80 academic programs in the schools of Arts & Sciences; Business Administration; and Education, Health Professions & Human Development. UHV provides face-to-face classes at its Victoria campus, as well as an instructional site in Katy, Texas, and online classes that students can take from anywhere. UHV supports the American Association of State Colleges and Universities Opportunities for All initiative to increase awareness about state colleges and universities and the important role they have in providing a high-quality and accessible education to an increasingly diverse student population, as well as contributing to regional and state economic development.