Close
Davison-Gordon, McCreary chosen as UHV Homecoming king, queen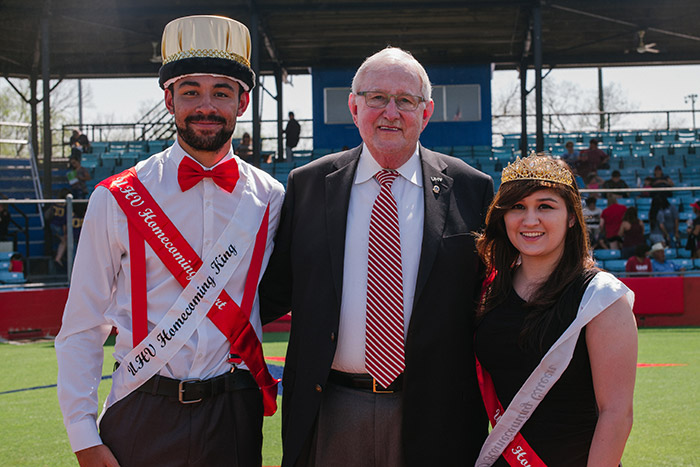 Kyle Davison-Gordon, left, and Blue McCreary, right, stand with UHV President Vic Morgan Saturday after being crowned Homecoming king and queen. The students were crowned between games of a Homecoming baseball doubleheader at Riverside Stadium.
Running for Homecoming queen was a step outside Blue McCreary's comfort zone, but she wanted to try for something big during her senior year.
"I thought about running last year, but I decided to wait until I was a senior," said McCreary, a criminal justice major from Houston. "It was an opportunity for me to do something I normally wouldn't consider."

McCreary and Kyle Davison-Gordon were named the University of Houston-Victoria Homecoming queen and king Saturday. They were crowned between games of a Homecoming baseball doubleheader at Riverside Stadium. UHV students voted for the king and queen during Homecoming week.
"Kyle and Blue are two outstanding students who exemplify the best of UHV," UHV President Vic Morgan said. "I am pleased to see them receive this honor and acknowledgement from their peers."
Being selected king was an exciting experience for Davison-Gordon, a junior history major from London.
"This is such a massive honor, especially because we don't have anything like this back home," he said. "It's amazing to win because of votes from other students. I'm so grateful for their support."
Davison-Gordon is a defender on the UHV soccer team as well as vice president of diversity for the Jaguar Activities Board. Last year, he served in the UHV Student Government Association legislative branch. He hopes to become an archeologist.
McCreary is a Resident Assistant at Jaguar Court and does volunteer work in Houston when she goes home. The win was a wonderful surprise for her.
"It was a very competitive race," she said. "I was up against some well-known student leaders who are very involved on campus, so I didn't think I had that much of a chance."
McCreary plans to go to law school to pursue corporate law. She has applied to the Southern Methodist University Dedman School of Law, the UH Law Center and the Texas Tech University School of Law.
"I love that I was able to attend UHV and be part of this community," McCreary said. "UHV has made it possible for me to complete my degree in three years instead of four. I'm excited to be able to represent the university because of this honor."