Close
Guide recognizes UHV for student economic diversity, mobility
The Guide to Online Schools recently included the University of Houston-Victoria in its list of schools that enable students to improve their economic situation through higher education.
UHV was included in the national guide's list of Top Accredited Online Schools for Student Economic Mobility as well as No. 14 in the website's 2017 Top Online Schools for Economic Diversity and Upward Mobility.
"UHV has a longstanding tradition of offering an excellent, affordable education," said David Cockrum, UHV interim provost and vice president for academic affairs. "These lists confirm that this emphasis is helping students from all income brackets but especially those with lower incomes who we help earn degrees and improve their economic situations."
Economic mobility is the ability of an individual to move between income brackets. In the guide's lists, colleges were evaluated based on how many students were able to move from lower to higher income brackets once they completed their degrees. When ranking schools on economic diversity, the guide looked at those with student populations from all income brackets but a high proportion of students from lower income brackets or with financial need.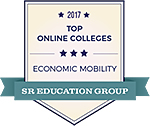 The website gathered schools' economic mobility rates from The Equality of Opportunity Project, a national organization that has collected data from 30 million college students to calculate economic mobility for American colleges. The mobility rates were compared with other colleges to determine the institutions' mobility percentiles.
The website also compared what percentage of students received Pell Grants, federal grants distributed to college students based on financial need. The mobility rates, percentiles and Pell Grant data were combined to determine which schools would be included in the lists.
In the Top Accredited Online Schools for Student Economic Mobility, UHV was included with 97 other colleges and universities across the nation. UHV had a mobility rate percentile of 97.2, which means the university had a higher mobility rate than 97.2 percent of all other schools.
UHV was ranked No. 14 in the economic diversity and upward mobility list because 45 percent of undergraduate students received Pell Grants during the 2015-2016 school year. In addition, the website cited the university's offerings of need- and merit-based scholarships as well as tuition exemptions and waivers for qualified students, such as the Competitive Scholarship waiver, which allows nonresident students to pay in-state tuition for their degrees.
"Making education accessible through online programs is just a small piece of how UHV works to help its students," Cockrum said. "Our Financial Aid Office constantly is searching for ways to help students pay for their educations, whether that is through grants, scholarships, waivers or exemptions. In the end, the ultimate goal is to improve their lives."