Close
Evening offers information about how to go to college, free food, baseball tickets and T-shirts
A college degree is open to everyone.
Students and their families can learn how and possibly score free baseball tickets at College 101, a free event beginning at 5:30 p.m. Tuesday at the University of Houston-Victoria. The first 10 people who come to the Multi-Purpose Room in the University Center, 3007 N. Ben Wilson St., will receive a pair of tickets to the Jaguars' March 15 home game against Cardinal Stritch University.
Students and their families also will dine on free barbecue, courtesy of the African-American Chamber of Commerce, and might even win one of five limited-edition Jaguars T-shirts.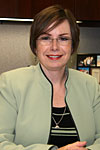 Denee Thomas
"We're pulling out all the stops to get out the message that every student can go to college and enjoy the lifelong benefits of higher education," said Denee Thomas, manager of the UHV Letting Education Achieve Dreams (LEAD) program, one of the event organizers. "Higher education is open to everyone, and we're here to walk them through the whole process."
The event, presented by UHV and The Victoria College, will teach students and their families how to get admitted to college, acquire financial aid and register for classes.
Educator and motivational speaker Willie Pickens of Houston will teach parents how to increase their involvement with their children's education at all levels and how to improve overall communication with their students.
LEAD staff members also will talk about the student support they provide to help students transition seamlessly from high school, to a community college and then to UHV. Services include help getting admitted, accessing financial aid, registering for classes and mentoring throughout a student's education. These outreach services target Hispanics and other minorities, first-generation, low-income and other students traditionally underrepresented at colleges and universities.
The event is sponsored by a grant from Alcoa Foundation.
While the event is free, attendees are asked to RSVP by 5 p.m. Monday by calling 361-570-4377. Those who register in advance will be entered into the drawing for one of the five T-shirts. Winners must be present to receive the prize.
Learn more about services available through LEAD at www.uhv.edu/LEAD or by calling 361-570-4893