Close
UHV professor presents at national counseling conference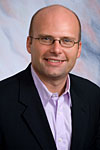 Jeffry Moe
Jeffry Moe, an assistant professor of counseling at the University of Houston-Victoria, gave a presentation at a national counseling conference in March.
Moe presented his lecture, "Hope and Resiliency in Sexual Identity Development: Research and Practice Implications," to some of the more than 4,000 attendees at the American Counseling Association Conference & Exposition in Charlotte, N.C.
The presentation advised counselors how to apply Holistic Wellness Models to counseling with lesbian, gay, bisexual and transgendered patients, Moe said. By teaching members of the LGBT community to be more accepting of themselves and their sexuality, those individuals encounter a lower incidence of depression and other negative mental health effects, he said.
The presentation included a model for how counselors can better help LGBT patients.   Moe wrote his doctoral dissertation on the subject and published a similar peer-reviewed paper last year in the Journal of LGBT Issues in Counseling.
He began teaching at UHV in the fall of 2007. He earned his doctorate in counselor education and supervision from the University of Toledo in Ohio in 2007.