Close
UHV announces Harris County judge, former state representative as commencement speaker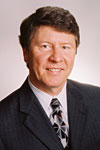 Judge Edward M. Emmett
Harris County Judge Edward M. Emmett, a former member of the Texas House of Representatives, will deliver the keynote speech during the May 16 spring graduation ceremony for the University of Houston-Victoria.
Commencement will start at 9 a.m. on the east side of UHV University West, 3007 N. Ben Wilson St.
"We are honored to have Judge Emmett as our commencement speaker," UHV President Tim Hudson said. "He will no doubt inspire our graduates to follow his example and use their education to make a positive difference in their families and communities."
Emmett served in the Texas House of Representatives from 1979 to 1987 before becoming Harris County judge in 2007. As a legislator, he was chairman of the Committee on Energy, a member of the Transportation Committee, and represented the state on numerous energy and transportation policy committees at the national level.
In 1989, President George H.W. Bush nominated Emmett as a commissioner on the Interstate Commerce Commission, where he served for three years.
Prior to becoming county judge, he founded The Emmett Co., a multifaceted international consulting and marketing firm specializing in policies, products and services primarily related to the transportation industry. His previous private sector experience included being president and chief operating officer of the National Industrial Transportation League.
Emmett has spoken at transportation conferences and meetings across the U.S. and in more than 15 countries. He was named one of the Top 20 Logistics Professionals by the Logistics Forum in 2003, and Transportation Clubs International presented him its "Transportation Person of the Year" award in 2005.
He graduated in 1971 from Rice University in Houston with a bachelor's degree in economics and in 1974 from the University of Texas at Austin with a master's degree in public affairs.
Emmett and his wife, Gwen, have been married for 33 years and have four children and two grandchildren.
UHV holds two graduation ceremonies each year. Spring commencement is held in Victoria, and the fall ceremony takes place in Katy to accommodate indoors the large number of graduates and their families.
For more information about UHV commencement, contact Nancy Gresham at 361-570-4351 or greshamn@uhv.edu