Close
Outstanding graduates from UHV School of Arts & Sciences to be recognized
Two spring graduates from the University of Houston-Victoria are so outstanding, it's almost criminal, faculty members said.
Bachelor's degree candidate Lindsay Hedding and master's degree candidate James Martinez, both of whom are studying criminal justice, will be recognized at 9 a.m. May 16 commencement ceremony at UHV, 3007 N. Ben Wilson St.
Professors at each of the four UHV schools select at least one outstanding graduate each semester from both their bachelor's and master's programs to be honored during commencement. Both Hedding and Martinez will receive $250 from the School of Arts & Sciences Faculty Excellence Fund, a fund established through donations from the school's faculty.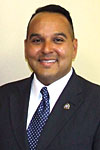 James Martinez
Martinez will receive his master's degree in interdisciplinary studies with concentrations in criminal justice and nonprofit leadership.
"The key to everything I do is education," Martinez said. "The only way to make an impact on this world is to continually pursue education."
The 39-year-old Martinez has a long history of making an impact on the community as a Victoria Police Department officer. He started as a patrol officer in 1994 and rose to the rank of lieutenant and head of the Special Crimes Unit by the time he left the department in 2005 to accept his current position as director of The Victoria College Police Academy. He also is running for a seat on the Victoria City Council.
The award came as quite a surprise, he said.
"I was really humbled. I had no idea this was coming," Martinez said.
But it wasn't a surprise to his professors, who spoke highly of him.
"James Martinez is the best student I've had here," said Keith Akins, assistant professor of criminal justice. "He was here to learn."
"He has just excelled all the way," said Robert Hawkins, a criminal justice professor. "He is quite an outstanding person."
He added that Martinez displayed a great degree of personal character along with his academic excellence.
"He is a trustworthy person and a good role model for people to follow," he said.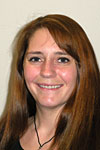 Lindsay Hedding
Lindsay Hedding also was surprised when she heard about the award.
"I was amazed," she said, adding that there are many impressive students in the program.
A single mother, Hedding went to school while taking care of her chronically ill son. While it wasn't easy, she still found time to work as a teaching assistant, serve as president of the Criminal Justice Society, and perform other volunteer work.
She now hopes to earn a master's degree and eventually go on to law school.
"Everything counts when you are doing your classes," she said, offering some advice to future students. "You don't want to do anything halfway."
Her professors praised her efforts both in and out of the classroom.
"She's very giving and very motivated to leave the world a better place than she found it," Akins said.
"She just absolutely excels as a student," Hawkins said. "She's the type of student you don't just know academically. She comes by the office and gets to know everybody."
Hedding demonstrated good character as a student and a person, he said.
"She's also a very good role model for people to look up to," Hawkins said.
Such personal quality in the outstanding graduates isn't a surprise, the school dean said.
"Our faculty doesn't just look for strong academics when deciding who will be our Outstanding Graduates, although that does play a role," said Jeffrey Di Leo, dean of the School of Arts & Sciences. "We try to choose graduates who truly stand out as outstanding human beings and can be looked up to by everyone on campus."
For more information about spring graduation, contact Nancy Gresham at 361-570-4351 or greshamn@uhv.edu