Close
UHV professor publishes third computer book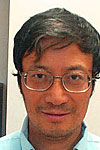 Lee Chao
A UHV computer science professor has published his third book about the subject.
Lee Chao, a faculty member in the UHV School of Arts & Sciences, is the author of "Utilizing Open Source Tools for Online Teaching and Learning: Applying Linux Technologies," which will be released in July through publisher IGI Global, based in Hershey, Penn.
"The book focuses on strategies for using and evaluating open source products for online teaching and learning systems," Chao said. "These are programs that aren't copyrighted and can be altered by anyone without cost."
This allows for a high degree of customization in online products. The book describes different programs that can be used for elements of the online learning environment and how creators of such environments can make the most of the open source status.
By going through each phase of the development process, this book provides comprehensive coverage about the application of open source products to meet the goals and objectives of instructional technology, Chao said.
Chao's first book, "Database Development and Management," was published in November 2005, and his second, "Strategies and Technologies for Developing Online Computer Labs for Technology-Based Courses," was published in 2008.
Since 1988, IGI Global has provided comprehensive research not just on computer science and information technology management, but also on how information technology affects human activities and interactions. IGI Global is a leading multimedia publisher of books, reference works, journals, encyclopedias, teaching cases, proceedings, and databases covering the areas of education, social science, library science, healthcare, business management, public administration, and computer science.
The print edition of the book will retail for $165.