Close
UHV Student Senate vice president gets ready for active school year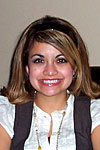 Nicole Garcia
University of Houston-Victoria education student Nicole Garcia is serving her second year on the UHV Student Senate, which promotes communication between university students and administrators.
"We are the students' voice," said Garcia, who is the 2009-2010 Student Senate vice president. "We represent the student body, and we are the organization that students can go to if they have any issues or concerns. We are also the organization that faculty members contact when making decisions or if they need opinions from our student body."
As vice president, Garcia assists President Erik Garino in his duties and coordinates various projects. Last school year, Garcia served as the Senate's secretary, the position responsible for recording meeting minutes, preparing agendas and maintaining official membership records and committee reports.
"I enjoyed being secretary," Garcia said. "At first, I had to adjust accordingly to all my responsibilities, but being part of an organization that represents all UHV students is a great experience."
Garcia said she is excited about serving on the Senate this school year as UHV gets ready to admit freshmen and sophomores in the fall of 2010, pending approval from the Southern Association of Colleges and Schools, the same organization that currently accredits UHV and most other major universities in Texas.
"We supported the expansion, and now we can look forward to helping initiate any decisions that will be part of the process to get freshmen and sophomores to UHV," she said.
Garcia also works in UHV Student Solutions assisting students with general questions about admissions, financial aid and billing. When she graduates, she hopes to teach for a year before pursuing a Master of Education.
The UHV Outstanding Student is an online feature highlighting the exceptional students who attend the University of Houston-Victoria. To nominate a student, contact UHV Communications Manager Paula Cobler or call 361-570-4350.