Close
UHV Jaguars catcher becomes finalist in radio talent contest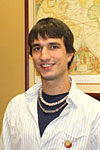 BJ Myers
The newest catcher for the Jaguars also could be the newest radio star in Houston.
BJ Myers, a junior at the University of Houston-Victoria, is one of four finalists in a contest by ESPN affiliate KFNC 97.5 FM to find the next great Houston sportscaster.
Myers, a self-described avid radio listener, first heard about the contest a few weeks ago.
"I thought 'Why not give it a shot,'" he said.
Myers submitted a video of himself reading a one-minute script and uploaded it to the station's Web site. The station personnel then put up what they judged to be the top 30 and allowed listeners to vote.
Out of those top 30, the top four were invited to take part in a live broadcast that will take place from 3 to 7 p.m. Monday at the Texas Rock Tavern Restaurant in Houston. Each hour, a contestant will be eliminated.
If he wins, Myers will receive a trip to Mexico and a job with the station.
"It's an option I'm definitely pursuing," he said. "I want to see where this road ends."
UHV Athletics Director Ashley Walyuchow, a veteran 20-year broadcaster, praised his player.
"Radio and sports have a long history together," he said. "BJ is getting in early on a long tradition of athletes who become announcers."
Whether he wins or not, Myers said the experience has been one he'll never forget.
Myers is majoring in English with a secondary teaching certification. He plans to be a high school science teacher and baseball coach after he graduates.
He previously played baseball at Wayland Baptist University and took a year off from his studies to help his parents rebuild their home after it was destroyed by Hurricane Ike.
Jaguars fans can go to www.975theticket.com, listen to Myer's video clip and vote for him if they wish. Voting, which will help decide the final winner, ends at 7 p.m. Friday.