Close
UHV employee heads systemwide organization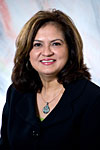 Anna Celum
Anna Celum, a staff member at the University of Houston-Victoria, recently became the chair of the University System Staff Executive Council, which represents all staff members in the University of Houston System.
Celum is the first UHV employee to hold the position.
"I'm really looking forward to serving my fellow staff members, especially at a time when we have so many positive things happening," Celum said.
The 16-member board is made up of representatives from the staff councils at the UH System's four universities. The board deals with issues affecting staff members systemwide and acts as the voice of the staff to the UH System Board of Regents, she said.
During the next year, Celum hopes to improve communications among board members between quarterly board meetings, improve staff collaboration between the four universities, and move the organization to a more active role with the Board of Regents.
The staff councils at the four UH system universities, UH, UHV, UH-Downtown and UH-Clear Lake, are elected by staff members. Each individual board selects four members to be on the systemwide council. The USSEC then elects its own officers. Celum was voted chair elect in 2008 and assumed the chair position Sept. 1. The board will hold its first quarterly meeting in October.
Celum works as an administrative assistant in UHV University Advancement.