Close
Graduate student dedicates herself to UHV and Victoria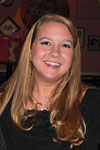 Shauna Sullivan
University of Houston-Victoria student Shauna Sullivan is dedicated to both the university she attends and the city where she lives.
"I love being involved in the community because changes can't be made without people to make them," said Sullivan, who lives in Victoria and is a UHV graduate student in accounting. "If I'm involved, then I get to be a part of those changes."
Her involvement at UHV is with Gamma Beta Phi national honor society and the Student Senate, where she is serving her second year as the graduate senator for the School of Business Administration.
"I like to know what my school can do for me and other students like me, and I want to be involved in the university helping others," she said. "What better way than to join the Student Senate?"
She makes sure other UHV students know they can come to her with their concerns.
"It's my responsibility to make sure all the students in the business school are represented," Sullivan said. "That is why I let everyone in my classes know my position. They know who they can reach out to if they have an issue."
Sullivan also enjoys the fiscal responsibilities of serving in the Senate since she's an accounting major.
"I get to be a part of the decision making of where our money goes," she said. "I also get to make sure the business school gets its share."
When Sullivan isn't busy with classes, homework or the Student Senate, she finds time to volunteer as a member of the Junior League of Victoria and the Victoria Volleyball Association, where she serves as a board member and volleyball official.
Coaching club volleyball in Victoria to high school and junior high girls who live in the Crossroads area is just another extension of her dedication to her community. Sullivan has been a coach for almost 10 years since she was a junior at St. Joseph High School in Victoria. She has played volleyball since the third grade.
In March, Sullivan's high school club volleyball team competed against 500 other teams in the Cross Court Tournament in Houston and won the bronze division. The team also took first place this past spring in its league.
"I'm not only coaching the girls in volleyball, but also in life skills," Sullivan said. "They look up to me as their coach and role model, and that is a big responsibility. They're so carefree and fun; they make me enjoy life to the fullest."
The UHV Outstanding Student is an online feature highlighting the exceptional students who attend the University of Houston-Victoria. To nominate a student, contact UHV Communications Manager Paula Cobler or call 361-570-4350.