Close
33rd De León Symposium to focus on Mariachi history, music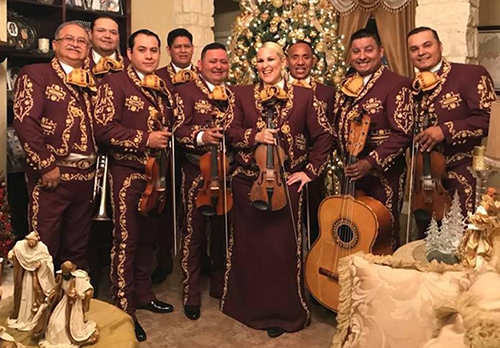 Mariachi Tapatío, a Victoria band, will perform Sept. 21 at this year's Martín De León Symposium on the Humanities at UHV. The band has performed in the Victoria area for 25 years.
To celebrate Hispanic Heritage Month, the University of Houston-Victoria is hosting a symposium focused on the history and culture of mariachi music, including a presentation by a Hiram College teaching fellow and a performance by a local mariachi band.
The 33rd annual Martín De León Symposium on the Humanities will explore the topic "Mariachi: History and Music," and will begin at 10 a.m. Sept. 21 in the UHV University North Walker Auditorium, 3007 N. Ben Wilson St. The event is free and open to the public. Attendees will have the opportunity to listen to a presentation by José Torres-Ramos, a doctoral candidate in ethnomusicology at the University of North Texas and a former recipient of a Fulbright-Hays Doctoral Dissertation Research Abroad Fellowship. Afterward, there will be a performance by local mariachi band Mariachi Tapatío.
"Culture matters, and the things we take for granted are often much richer and have much deeper roots than we usually imagine," said Joseph Locke, a UHV assistant professor of history and organizer of the event. "This is a great opportunity to put mariachi under that microscope."
Torres-Ramos was invited to speak at the symposium after members of the De León Club heard him give a presentation about mariachi music as part of an educational series by the Fort Worth Opera. He first performed in a mariachi band in high school as a way to connect with his Latino roots, he said. In 2018, he was awarded a Fulbright-Hays Doctoral Dissertation Research Abroad Award Fellowship, funding twelve months of dissertation fieldwork conducted in Mexico City and Guadalajara. His presentation will be titled, "The History and Culture of Mariachi in Mexico."
"I want to introduce people to mariachi as a musical culture," Torres-Ramos said. "It's a form of expression of cultural values – masculine and feminine traits, and elements of culture are reflected in the performance and presentation of the music."
Although his presentation will focus on the traits and development of mariachi in Mexico, Torres-Ramos also wants people to know that mariachi, just like other common cultural elements such as food, is not the same in different regions. Just as what is commonly called "Mexican food" differs from Arizona to Texas to Mexico, and even differs between the various regions of Mexico, mariachi music is found throughout Latin American cultures with area-specific variations.
"Another comparison is how Country music varies across the southern U.S.," he said. "The typical Nashville sound is different from country music played in Texas, and both are different from the more Cajun sound found in Louisiana. Just as these are all considered 'Country music' despite the differences, mariachi has regional variations, but it all is still mariachi."
After Torres-Ramos' presentation, attendees will be treated to a performance by the Victoria mariachi band Mariachi Tapatío. The nine-piece group has played in the area for 25 years and includes two trumpets, five violins, a vihuela, a guitar and a guitarrón, played by Pablo Linares, the band's manager.
Although some bands have started expanding the meaning and style of mariachi, Linares says Mariachi Tapatío prefers to keep the traditional sound and play traditional songs.
"Mariachi is part of the universal language of music," Linares said. "In every performance, the band's main purpose is to use the music to communicate the meaning of the story told in the songs. It's a privilege to participate in this symposium, and we look forward to sharing our performance with the community."
For more information about the symposium, contact Locke at (361) 570-4292 or lockej@uhv.edu.
The University of Houston-Victoria, located in the heart of the Coastal Bend region since 1973 in Victoria, Texas, offers courses leading to more than 80 academic programs in the schools of Arts & Sciences; Business Administration; and Education, Health Professions & Human Development. UHV provides face-to-face classes at its Victoria campus, as well as an instructional site in Katy, Texas, and online classes that students can take from anywhere. UHV supports the American Association of State Colleges and Universities Opportunities for All initiative to increase awareness about state colleges and universities and the important role they have in providing a high-quality and accessible education to an increasingly diverse student population, as well as contributing to regional and state economic development.