Close
Top UHV education students take different paths to degrees
A 42-year-old undergraduate and a 26-year-old graduate student with a full-time job recently were named the top graduating students by the faculty in the University of Houston-Victoria School of Education & Human Development.
Professors from each of the four UHV schools select at least one outstanding graduate each semester from their graduate and undergraduate programs to be honored during commencement.
Deirdre "Mikki" Woolard, a working mother of two, and Nyssa Garcia, who was inspired to go into teaching after working with children at a summer camp, will be recognized at the 11 a.m. Dec. 11 commencement at the Leonard E. Merrell Center, 6301 S. Stadium Lane in Katy.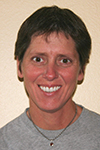 Deirdre "Mikki" Woolard
"I grew up in a small town in Louisiana. Our first concerns out of high school weren't about college; they were about getting a job," said Woolard, the school's top undergraduate who will complete her bachelor's degree in interdisciplinary studies. "Even though I ran two successful businesses, I still felt I needed that solid foundation of a college degree. Some are fortunate to have that foundation straight out of high school."
Two years after her own high school graduation, Woolard started her first litigation support business collecting litigation records for attorneys. She later sold it to her business partner but began a similar business a month later.
After selling her second business, she wanted a career that allowed her to work with a group she truly enjoyed – children. Woolard, a Houston resident, moved into the education field and is now a paraprofessional at Lowery Elementary School in Cypress-Fairbanks Independent School District.
"I have been fortunate in the jobs that I have had," she said. "My people skills were decent enough, but I wanted to get my degree."
Woolard's father, though he had only a sixth-grade education, was her inspiration.
"Even though he didn't realize it, through his self-education and eventually by leading a successful property management company, he was modeling things for me that I would use later on," she said.
Now Woolard is modeling positive behavior for her own two teenage children, working full time and taking a full course load.
"I get up early in the morning to study because after their school, it's all about my children," she said. "I think they see and appreciate the sacrifices that have to be made."
Woolard will be certified to work with elementary school students after she graduates and prefers working with special needs children. She said despite her nontraditional designation, she has persevered.
"Probably the biggest challenge was being 37 years old and walking into my freshman English class and thinking I was old enough to be everyone's mother," she said. "But once I got into the swing of it, I thought, 'I can manage this.'"
She said UHV's course offerings and small class sizes were a plus for her.
"I have recommended the school to a lot of people," she said. "It was really smooth, and despite my busy personal schedule, everything meshed. It's a university with more of a personal touch."
Garcia, a Houston resident who will receive her master's in counseling, is the top graduate student.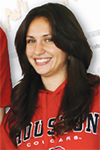 Nyssa Garcia
She received her bachelor's degree from a New Hampshire university and ran a camp for high school students there during her summers. Between drama classes, day trips and other activities, Garcia built relationships with more than 500 youth who attended the camps, some of whom returned every year.
"I saw how they would open up to me with their problems as a counselor, but I didn't feel I had the best tools to help them," she said of her return to school. "I wanted to get more training for people who came to me with questions and also so I could tell parents what I had learned to help them improve their relationships with their kids."
Garcia now works as an executive administrator at Pros Pricing, a downtown Houston software company, and said she will move into executive and corporate training and career counseling areas.
"Balancing work with school was my biggest challenge," she said. "In my position, things can sometimes come up at the last minute. But my employer was very understanding and flexible with my schedule."
Garcia said her parents always stressed education. Her father was a dentist, and her mother was an occupational therapist. The two were supportive and expected her to get a higher education.
Garcia said she split her UHV time evenly between face-to-face and online classes.
"I took UHV classes at the University of Houston System at Sugar Land, so it was an easy drive there," she said. "Online classes were helpful, too."
She also praised the UHV faculty and staff.
"It was a great experience," Garcia said. "My professors were all very helpful each step of the way, even offering advice about what to do after graduation."
Lawrence Rossow, dean of the UHV School of Education & Human Development, said these top graduates are typical of the diversity of UHV students.
"Ms. Woolard and Ms. Garcia are determined and dedicated, and we congratulate them for being top graduates in their class," Rossow said. "The education they received at UHV will make them assets to their future employers and good citizens in their communities."
The University of Houston-Victoria, located in the heart of the Coastal Bend region since 1973 in Victoria, Texas, offers courses leading to more than 80 academic programs in the schools of Arts & Sciences; Business Administration; and Education, Health Professions & Human Development. UHV provides face-to-face classes at its Victoria campus, as well as an instructional site in Katy, Texas, and online classes that students can take from anywhere. UHV supports the American Association of State Colleges and Universities Opportunities for All initiative to increase awareness about state colleges and universities and the important role they have in providing a high-quality and accessible education to an increasingly diverse student population, as well as contributing to regional and state economic development.