Close
Next ABR speaker uses poetry to reflect the times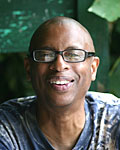 E. Ethelbert Miller
Editor's note: Due to a death in the family, E. Ethelbert Miller's Friday visit to the University of Houston-Victoria has been canceled.
A noted literary scholar who uses a baseball game as a metaphor for life is the final speaker in the University of Houston-Victoria/American Book Review Fall Reading Series.
Washington, D.C., poet and essayist E. Ethelbert Miller, author of 11 books and editor of four anthologies, will speak at noon Dec. 3 in the Alcorn Auditorium of UHV University West, 3007 N. Ben Wilson St.
Miller, who recently turned 60, said aging is much like baseball, a metaphor he uses throughout his most recent book, "The Fifth Inning."
"When you're a baseball pitcher, five innings is a complete game," he said. "When you're in your 40s, you're seeing the batting order again for the second time, and they are familiar with your pitches. You look up, and you've got guys on second and third base. Conversely, when you go to the doctor at this age, you may realize the game's getting tougher. He may tell you there's a problem with your blood pressure, or diabetes, or your kidneys. I tell people they should count their blessings every day."
Miller calls himself a literary activist, or one who promotes the literature of the entire country and eschews New York-centric publishing practices.
"I like to always speak up for people who are not in the room," he said. "Sometimes everyone has the same views, even among poets. There is an arrogance sometimes that nothing west of the Mississippi River is worth reading."
He said rich, soulful writing can be found in all corners, from Mississippi, to Oregon, to Utah.
Miller's own childhood taught him to look past stereotypes and dive into books. His parents had roots in Barbados, and his father came to New York by way of Panama. Growing up in a New York neighborhood that turned rough, Miller's parents made him and his sibling stay inside much of the time. He gravitated to books and said a love of baseball was the only thing he had in common with the neighborhood youth.
"I'm the black guy who can't dance," he said with a laugh. "And not having had any Southern U.S. family history in my family, I had no idea what those 'grits' were on the menu when I went to Howard University."
Miller moved to Washington, D.C., in 1968, where he has remained since. He dove into African-American authors June Jordan and Langston Hughes, whom he cites as influences, as well as poets Frank O''Hara, Allen Ginsberg and Pablo Neruda.
"The beautiful thing about poetry is that you teach with it," he said. "You are not going to read poetry the way you read a novel. Each word, each part of punctuation must mean something because the reader has a relationship with it."
Miller said the main themes of his work are family and intimacy.
"People look at Neruda and cite his poems on Valentine's Day," Miller said. "I would love to have three or four poems that people could look for when they are falling in love. I also like to reflect intimacy, the intimacy between two people when they share food or spend time together."
Miller has seats on several boards that promote American letters and social justice. He is the board chairman of the liberal think tank Institute for Policy Studies. He is a board member of The Writer's Center and is editor of Poet Lore magazine.
Since 1974, he has been director of the African American Resource Center at Howard University in Washington, D.C. An exhibit of his archives will be shown through February at the Gelman Library at George Washington University, also in Washington, D.C.
Miller's literary anthology, "In Search of Color Everywhere," was awarded the 1994 PEN Oakland Josephine Miles Award and was a Book of the Month Club selection. In 2004, Miller received a prestigious Fulbright award to visit Israel.
But it is poetry and reflecting the era in which he lives that move him. He recently wrote a poem, "Austerity," about the dichotomy of a struggling writer who reflects the country's materialism since he wants a Mercedes Benz.
He said the country's in-vogue words can have double meanings.
"If a boss uses the word 'transparency,' that means budget cuts are coming, and you will soon have no job," Miller said as he laughed. "And 'austerity' means you have patches on your clothes and a sandwich for lunch. We should all invest in patches."
Reflecting the culture and mood of the country is part of what he calls the politics of poetry.
"We monitor what's going on and make probes into why things are happening," Miller said. "People can read a poem and think, 'That's a new way of looking at something,' letting metaphors make a connection with them. I think that's why poets are necessary."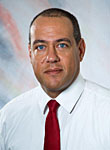 Tom Williams
Thomas Williams, humanities division chair in the UHV School of Arts & Sciences, said Miller will bring a valuable voice to the Reading Series.
"We will be honored to have Ethelbert Miller with us," Williams said. "It is not often that you encounter someone who still believes so fervently in the power of poetry to effect significant change, aesthetically, socially and politically."
The ABR Spring Reading Series lineup will be announced soon.
ABR is a nonprofit, internationally distributed literary journal that is published six times a year. It began in 1977, moved to UHV in 2007 and has a circulation of about 8,000. The journal specializes in reviews of works published by small presses.
For more information about the UHV/ABR Reading Series, call ABR Managing Editor Charles Alcorn at 361-570-4100 or go to www.americanbookreview.org.
The University of Houston-Victoria, located in the heart of the Coastal Bend region since 1973 in Victoria, Texas, offers courses leading to more than 80 academic programs in the schools of Arts & Sciences; Business Administration; and Education, Health Professions & Human Development. UHV provides face-to-face classes at its Victoria campus, as well as an instructional site in Katy, Texas, and online classes that students can take from anywhere. UHV supports the American Association of State Colleges and Universities Opportunities for All initiative to increase awareness about state colleges and universities and the important role they have in providing a high-quality and accessible education to an increasingly diverse student population, as well as contributing to regional and state economic development.