Close
Compassion, interaction key to top UHV School of Nursing graduates
A desire to help others, as well as job security in a growing field, led the University of Houston-Victoria School of Nursing's top fall graduates to return to school and get their degrees.
Jordan Lambert is the top undergraduate, and Deidra Teoh is the outstanding graduate student in the School of Nursing. Both will get their respective degrees at the 11 a.m. Dec. 11 commencement ceremony in the Leonard E. Merrell Center, 6301 S. Stadium Lane in Katy.
Each semester, professors from each of the four UHV schools select at least one outstanding graduate from their graduate and undergraduate programs to be honored during commencement.
"I love everything about nursing," Lambert said. "My focus is pediatric-intensive care nursing, and I have been so fortunate to have an internship during the past eight weeks at the Texas Children's Hospital. I'm thankful to be able to make little differences in the lives of children with acute and chronic illnesses and to provide comfort to their families."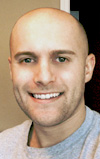 Jordan Lambert
Having worked in the restaurant industry since age 14, it was not easy to switch gears and careers. Lambert's bachelor's degree in hospitality management was being put to good use as a restaurant manager, but burnout came after years in the industry. His wife and her peers led him into the nursing field.
"I felt there were more important things to do in life than manage a restaurant," Lambert said. "My wife and many of our friends are in nursing, and I saw their overall job satisfaction was high. They all said they loved their jobs and found what they were doing to be very rewarding."
Lambert will get his Bachelor of Science in Nursing degree through a program for students who already hold one undergraduate degree in a different field. Lambert was concerned about returning to school after almost a decade away but found himself a much better student at age 27 than at age 18. School, work and being a new husband provided a test of his time management, but he weathered the challenge through diligence and dedication.
"A lot of people think pediatric nursing care is intimidating or sad, but working with ill children is a very uplifting environment," he said. "The nurses I work with are the best of the best. There is far more good than bad in this line of work."
The Houston resident found that the intensity of the courses and the facilities at the University of Houston System at Sugar Land, where UHV offers the nursing programs, helped prepare him for his job.
"It's very hands-on, and they have a state-of-the-art simulation lab with high-fidelity mannequins that simulate patients," he said. "There is a lot of theory and practice together, and it helps prepare us for the real thing."
Lambert said after some time off from school and joining the workforce, he hopes to return to school to become a nurse practitioner and obtain a doctoral degree.
Deidra Teoh is 30 years old and undertook a career change while balancing a job, three children and her studies. The Richmond resident is the top graduate student and will receive a Master of Science in Nursing with a nurse education concentration.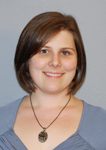 Deidra Teoh
After receiving an associate degree and going to work in the computer industry, a layoff forced her to re-evaluate her career choices.
"I really wanted to have interaction with other people, which is not always the case with a computer job. I also wanted to be in an industry where the possibility of layoffs is lower," said Teoh, citing the booming growth in the health care industry.
Teoh received a bachelor's degree in nursing and has worked at the MD Anderson Cancer Center while raising three children with her husband, an electrical designer who works in the petrochemical industry in Houston.
"The training in computers definitely helped with my education, with writing papers, but also because the nursing program at UHV is so technology-focused," she said. "The simulation lab is so high-tech and impressive. I hope to end up teaching in an environment like that one day."
Teoh joked that having to juggle three children, work and get her education kept her "out of trouble." But the top graduate student maintained a strong grade-point average while attending UHV nursing classes at the UH System at Sugar Land and UH System at Cinco Ranch, and said the course offerings made it easier for her to complete her degree.
"I live in between both teaching centers, so it was an easy to commute to either place, plus I did some video-conferencing from home and interacted via Interactive Television with some Victoria-based instructors," she said.
She and her husband had to make adjustments around classes, and she had to make time for one special delivery of her own: Her youngest son was born one night after she attended afternoon classes. After welcoming her bundle of joy, she was back in class the following week.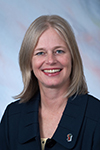 Kathryn Tart
"We joked that he couldn't be born on Tuesday night or Wednesday morning because I'd have to miss class," Teoh said. "But he came around at just the right time."
Kathryn Tart, founding dean of the UHV School of Nursing, said these top graduates recognized the growth in the health care field and took advantage of the school's recognized education.
"Ms. Teoh and Mr. Lambert are determined and dedicated, and have been wonderful students while they juggled responsibilities at home and work," Tart said. "The education they received has prepared them to be nurse leaders in the health care industry, and I believe they will be great assets to their future employers."
The University of Houston-Victoria, located in the heart of the Coastal Bend region since 1973 in Victoria, Texas, offers courses leading to more than 80 academic programs in the schools of Arts & Sciences; Business Administration; and Education, Health Professions & Human Development. UHV provides face-to-face classes at its Victoria campus, as well as an instructional site in Katy, Texas, and online classes that students can take from anywhere. UHV supports the American Association of State Colleges and Universities Opportunities for All initiative to increase awareness about state colleges and universities and the important role they have in providing a high-quality and accessible education to an increasingly diverse student population, as well as contributing to regional and state economic development.