Close
UHV dean releases book on innovative, influential late author
The dean of the University of Houston-Victoria School of Arts & Sciences recently published a book of essays about novelist Raymond Federman, his life as a Holocaust survivor and his influence as an experimental writer.
Jeffrey Di Leo's seventh book, "Federman's Fictions: Innovation, Theory, and the Holocaust," was a labor of love to document the writer who passed away in 2009 at age 81. Di Leo authored the introduction and edited contributions from 19 other writers, including Federman himself.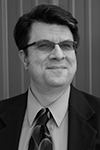 Jeffrey Di Leo
"Its publication is bittersweet without Ray around to share it with," Di Leo said. "He was a distinguished writer, an American Book Review speaker and a dear friend."
Di Leo said the book was in the planning stages during Federman's April 2007 visit to speak at the American Book Review Reading Series. Di Leo is publisher and editor of the American Book Review literary journal housed at UHV.
"I first became interested in Federman's work when I was in graduate school, and he was one of the postmodern writers we studied," Di Leo said. "The crossover appeal to his work was very appealing to me. You just don't find many writers with that rich of a range."
The UHV professor of English and philosophy said he met Federman in person in 2002 when the French-born author came to Chicago to speak to a class Di Leo led at the University of Illinois-Chicago.
"I spent a couple of days with him, and it was at that time I noticed there wasn't a book that dealt with the full body of his work and could speak to its critical range," Di Leo said.
Federman's life story is one worth chronicling. His adolescence began with a shock in 1942, when, at age 14, he was hidden in a small closet as Germans entered his family's home and took his parents and sisters. His family died at Auschwitz within a year.
But the future writer traveled the world, coming to America to study literature, write and work with avant-garde writer Samuel Beckett, all the while developing his unique, experimental style. He eschewed offers from major publishing houses, preferring to practice his art outside of market-driven forces.
Di Leo said the latter left his work revered in higher-education English departments but largely absent from the public square.
"I hope this collection of essays will help increase understanding and appreciation of his work," Di Leo said. "The book adds other voices to the conversation about his work – voices from philosophy, critical theory, translation study, comparative literature, linguistics and history – voices that have never been brought together in one volume."
The book, released this week, was published by the State University of New York Press. It will be the subject of a panel discussion in January at the Modern Language Association conference in Los Angeles.
Don Smith, UHV interim president, said Di Leo's book demonstrates that the American Book Review and its reputation for serious literary study are in good hands through the dean's guidance.
"Dr. Di Leo's continuing research and contribution to scholarly study enriches the quality of teaching at UHV and, indeed, throughout the profession," Smith said. "His leadership in this area is inspirational."
The University of Houston-Victoria, located in the heart of the Coastal Bend region since 1973 in Victoria, Texas, offers courses leading to more than 80 academic programs in the schools of Arts & Sciences; Business Administration; and Education, Health Professions & Human Development. UHV provides face-to-face classes at its Victoria campus, as well as an instructional site in Katy, Texas, and online classes that students can take from anywhere. UHV supports the American Association of State Colleges and Universities Opportunities for All initiative to increase awareness about state colleges and universities and the important role they have in providing a high-quality and accessible education to an increasingly diverse student population, as well as contributing to regional and state economic development.