Close
Dallas-area UHV grad likes flexibility of nursing program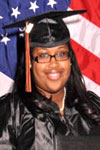 Jessica Waters
Dallas resident Jessica Waters saw an opportunity in Victoria and jumped at the chance to get her degree from the University of Houston-Victoria School of Nursing.
The 23-year-old Registered Nurse received her Bachelor of Science in Nursing from UHV during Saturday's fall commencement ceremony. She also took part in the School of Nursing's separate pinning ceremony. Completing her degree has made her eager to get into the workforce.
During her time in Victoria, Waters gained real-world experience working as a medical-surgical nurse at DeTar Hospital.
"I applied and was accepted into the RN to BSN program at UHV and later was hired to work full time at DeTar," Waters said. "The experience and education confirmed that this is what I want to do with my career."
Making her UHV choice more fortuitous was that Waters lived with a grandparent, Charles Waters, during her three semesters at the university.
"I graduated from an RN program in Waco, then moved back to Dallas," Waters said. "But I wanted to get my bachelor's degree, and a lot of the programs in Dallas were all online. I didn't think that would be a good fit for me."
Waters said she researched many programs and found UHV's hybrid program that offers both face-to-face and online classes.
"It was a very positive experience, and the scheduling was very flexible to arrange with my work," she said. "There was a lot of one-on-one teaching because the class sizes were not very large. We were able to get a lot of individual time with the teachers."
Waters also was impressed with the nursing program's clinical studies.
"We got to interact with the community a lot, and it was a good opportunity to meet people in the community working in the same profession," Waters said. "In addition to my own job, we visited a prison in Beeville and shadowed a school nurse at a local elementary and middle school. It gave me insight into what kind of job someone with a BSN might have."
Waters is applying to Dallas-area hospitals and plans to continue her education by earning a master's degree and becoming a nurse educator.
Waters also suggested that DeTar Hospital construct a discharge lounge as a waiting area for recently released patients. Hospital officials are studying that suggestion.
Kathryn Tart, founding dean of the UHV School of Nursing, said Waters' drive and focus, coupled with her education, will make her a leader in the nursing field.
"Ms. Waters has shown herself to be dedicated to the profession, and I know she will prove to be a leader throughout her career," Tart said. "As our school has grown and become more recognized, students from outside the Coastal Bend region are realizing what a good investment UHV can be."
The University of Houston-Victoria, located in the heart of the Coastal Bend region since 1973 in Victoria, Texas, offers courses leading to more than 80 academic programs in the schools of Arts & Sciences; Business Administration; and Education, Health Professions & Human Development. UHV provides face-to-face classes at its Victoria campus, as well as an instructional site in Katy, Texas, and online classes that students can take from anywhere. UHV supports the American Association of State Colleges and Universities Opportunities for All initiative to increase awareness about state colleges and universities and the important role they have in providing a high-quality and accessible education to an increasingly diverse student population, as well as contributing to regional and state economic development.