Close
Nursing a perfect fit for UHV second-degree graduate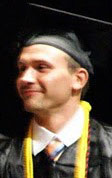 Robert Garza
For University of Houston-Victoria student Robert Garza, a career in the medical field was always in the cards.
The Rosenberg native maintained an interest in math and science throughout school, and that interest in medicine grew as he got older.
"I'm really fascinated with anatomy and physiology," he said. "It's intriguing. Just the different biochemical processes that go on inside the body amaze me."
Garza, 25, graduated from another university in 2008 with a bachelor's degree in biology, a concentration in pre-med and a minor in business administration. He continued his studies after graduation.
Although he originally planned to become a doctor, he later decided nursing was a better fit. He likes that the nursing field offers more patient interaction and allows for more flexible schedules.
"I decided I wanted a family," Garza said. "I wanted to be able to live life. I chose this route instead."
He signed up for UHV's Second Degree Bachelor of Science in Nursing program, taking classes at the University of Houston System at Sugar Land, where UHV offers the nursing program. He graduated with his bachelor's in December, and he already has his future mapped out.
Garza accepted a position with Methodist Sugar Land Hospital as a critical care nurse and starts in January.
Working in intensive care is rewarding but doesn't always come easy, he said. When he was a nursing intern, a couple of critical-care patients he worked with passed away.
"It can be stressful, no doubt," Garza said. "But I stick to my faith base, my beliefs. It keeps me level-headed."
He plans to return to school in a few years to obtain his master's degree as a certified registered nurse anesthetist.
Garza keeps busy with a variety of hobbies in his spare time. He enjoys everything from abstract painting to working out, running marathons and basketball. He even recently joined a men's roller derby team.
"I joke around with my friends, saying I have undiagnosed Attention Deficit Disorder," he said. "There's something new all the time. I like to be busy."
Busy or not, Garza said he's more than ready to begin this next chapter of his life.
"To make a living by caring for someone else and making them feel good, I can't think of anything better," he said. "Helping people is where I've always stood. I'm excited."
The UHV Outstanding Student is an online feature highlighting the exceptional students who attend the University of Houston-Victoria. To nominate a student, contact UHV Communications Manager Paula Cobler or call 361-570-4350.
The University of Houston-Victoria, located in the heart of the Coastal Bend region since 1973 in Victoria, Texas, offers courses leading to more than 80 academic programs in the schools of Arts & Sciences; Business Administration; and Education, Health Professions & Human Development. UHV provides face-to-face classes at its Victoria campus, as well as an instructional site in Katy, Texas, and online classes that students can take from anywhere. UHV supports the American Association of State Colleges and Universities Opportunities for All initiative to increase awareness about state colleges and universities and the important role they have in providing a high-quality and accessible education to an increasingly diverse student population, as well as contributing to regional and state economic development.