Close
UHV dean addresses higher education politics in new book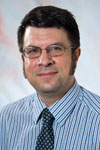 Jeffrey Di Leo
To the general public, the halls of academia are a place for research, intellectual pursuits and the dissemination of knowledge. But to those working and learning there each day, there also can be turmoil resulting from the pressure of politics and personalities.
The bitterness of academic politics can be summarized in the popular quote from a Harvard political scientist: "Academic politics is much more vicious than real politics. We think it's because the stakes are so small."
That aspect of academia is the subject of a new book by Jeffrey Di Leo, dean of the University of Houston-Victoria School of Arts & Sciences. "Academe Degree Zero: Reconsidering the Politics of Higher Education" is available in hardcover and paperback, published by Paradigm Publishers.
"Politics can stifle intellectual creativity and freedom in instances where political disputes discourage truly interdisciplinary research and scholarship," Di Leo said. "In the sciences, research funding and grants temper some of the politics. But that is largely absent in the humanities."
The book, Di Leo's eighth, includes personal anecdotes as examples of the stereotypes and prejudices academics can face from professors and peers. When Di Leo was a doctoral candidate, a professor advised him not to "dilute" his philosophy degree by earning a second degree in literature.
"Reading and watching movies might be a good way of relaxing," the scholar told him, "but it is not serious intellectual labor."
Di Leo's 150-page treatise is divided into 10 essays about academia and why some in its ranks get bogged down in politics.
"Academe Degree Zero" examines the negative effects of repackaging theories and academic anonymity, which can cause rancor among colleagues.
The book also addresses the often-personalized nature of academic politics, and how tenure affects the quality of research.
Di Leo writes that many traditional views must be re-examined and updated for a technologically advanced world.  One academic convention that he claims must be revised is "the mythology of the book."
He criticizes the continued reliance upon the printed book as "the gold standard for tenure" in an era where rising costs of publication are coupled with shrinking budgets for university presses. Di Leo argues that academics should let go of prejudices against electronic publication and embrace the digitization of information, as the music industry has done.
"Delivery systems will change over time, but the content retains its value.  Trust me," Di Leo quips, "'Smoke on the Water' is the same song on an iPod as it was on an eight-track tape."
At a time when higher education budgets are being combed for cuts, the UHV dean writes that those in academia soon may not have the luxury of so much political diversion and should refocus their efforts on the institution's true calling.
"To avoid getting caught up in politics, higher education needs to be taken apart and rebuilt for the 21st century," Di Leo said. "We're still working in a vision of the academy that was formed in the 18th century.
"I think that if it is refashioned," he said, "there is a hope that the carping and politics will take a secondary place to the real ends – education."
The book is available from www.paradigmpublishers.com, as well as from Amazon.com and the Barnes & Noble website. A paperback version will be available locally after its release in early 2011.
The University of Houston-Victoria, located in the heart of the Coastal Bend region since 1973 in Victoria, Texas, offers courses leading to more than 80 academic programs in the schools of Arts & Sciences; Business Administration; and Education, Health Professions & Human Development. UHV provides face-to-face classes at its Victoria campus, as well as an instructional site in Katy, Texas, and online classes that students can take from anywhere. UHV supports the American Association of State Colleges and Universities Opportunities for All initiative to increase awareness about state colleges and universities and the important role they have in providing a high-quality and accessible education to an increasingly diverse student population, as well as contributing to regional and state economic development.