Close
UHV freshman explores computer industry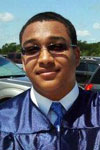 Shomari Simon
From smartphones to laptops, tablets and more, computers are a necessary tool in today's high-tech world. And it's people like Shomari Simon who keep that technology moving forward.  
The University of Houston-Victoria freshman computer science major has harbored a love of technology since middle school.  
"I've wanted to work with computers for a long time, almost as long as I can remember," Simon said. "I really enjoy it."  
Simon, 19, said he got his initial look at the field during classes that taught him about the hardware, various systems and how they all worked together. It was the machines' inner workings, however, that most intrigued him.  
"I was always interested about the stuff inside," he said. "I wondered how all of those small components could work together and store as much information as they do. It's really interesting to stop and think about it."  
Simon was born and raised in Port Arthur, but later relocated to Katy with his family. He graduated from Seven Lakes High School in 2012.  
He said it was a combination of things that led him to UHV.  
Affordability and location both played their roles, noting the school is far enough away from home that he has independence, but close enough that he can go back when needed. Size made a difference, too.  
"I wanted to go somewhere where I could get to know people," Simon said of his professors and classmates. "The classes aren't too big here. I liked that."  
Simon said his goal is to learn a little bit of everything regarding computers. By taking in as many aspects of the industry as possible, he not only improves his chances of finding work, but also can find what best suits him.  
Course work takes up much of his time now, but not all of it. Away from the classroom, Simon enjoys spending time with family and friends.  
Simon said he has enjoyed his time in school so far and looks forward to continuing on with his studies. He advised other college students to go in to school ready to take in new experiences.  
"What you start out studying might not be what you want to do," he said. "Be open-minded. You don't know what you'll learn."  
I am a Jaguar is an online feature highlighting the exceptional students who attend the University of Houston-Victoria. To nominate a student, contact Paula Cobler, UHV interim director of marketing and communications, or call 361-570-4350.
The University of Houston-Victoria, located in the heart of the Coastal Bend region since 1973 in Victoria, Texas, offers courses leading to more than 80 academic programs in the schools of Arts & Sciences; Business Administration; and Education, Health Professions & Human Development. UHV provides face-to-face classes at its Victoria campus, as well as an instructional site in Katy, Texas, and online classes that students can take from anywhere. UHV supports the American Association of State Colleges and Universities Opportunities for All initiative to increase awareness about state colleges and universities and the important role they have in providing a high-quality and accessible education to an increasingly diverse student population, as well as contributing to regional and state economic development.