Close
UHV launches $10,000 bachelor's degree program
The University of Houston-Victoria is introducing a $10,000 accelerated bachelor's degree in response to Texas Gov. Rick Perry's 2011 call for state universities to offer low-cost undergraduate degrees.  
UHV's new $10,000 Degree in Three, also known as the $10,000 Dn3, is available to full-time students who complete their bachelor's degree in specified majors in three years.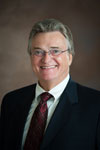 Phil Castille
"The push for lower-cost degrees in Texas aligns well with our mission," UHV President Phil Castille said. "Our tuition and fees are already among the lowest in the state. So our $10,000 degree is a great way to incentivize younger students, who often take relatively light course loads and struggle to complete their degrees."  
When UHV's Dn3 program started in the School of Arts & Sciences in fall 2010, it was the first three-year bachelor's program in the state offered by a public university. The $10,000 Dn3 offers six bachelor's degrees that can be completed in three years – English, history, communication, psychology, Spanish and criminal justice. The program will be available to students starting this month.  
UHV's new program is a response to the financial needs of many entering freshmen. More than 40 percent of UHV's students receive Pell grants, a federal award for academically qualified, low-income undergraduate students.  
The degree cost is calculated using tuition and fees for a student completing 40 hours a year for three years. This would total $24,468. The average Pell Grant of $3,593 per year and a UHV continuation scholarship of $1,845 a year would reduce the total cost of the bachelor's degree to $9,999. UHV continuation scholarships would be awarded to students who successfully complete the first and second years of the program. Additional scholarships and grants would decrease the total further and help defer costs of books and living expenses.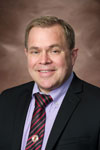 Jeffrey Cass
"Dn3 is an intensive program that requires a lot of commitment because it is a full, four-year degree completed in three years," said Jeffrey Cass, UHV provost and vice president for academic affairs. "But those who complete it will be in the workforce a year early, earning an income rather than spending more on their education."  
In response to the governor's call, several other Texas public universities have introduced $10,000 degree plans, but most rely on previous education credits from testing or other colleges, Cass said. UHV's plan is a start-to-finish bachelor's degree at the same university.  
"Our $10,000 degree provides an opportunity for highly focused students to earn a very affordable, high-quality degree that will prepare them for today's professional workforce and put them on the road to success in their careers and lives," Castille said.  
In fact, UHV's affordability is what originally attracted the university's Student Government Association president to UHV when she was researching universities in Texas.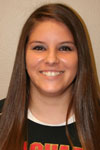 Jena West
"UHV officials understand that many students can't afford to spend a lot of money for college," senior Jena West said. "They do a great job of keeping student needs in perspective when they create new programs like the $10,000 Dn3."  
The new program coincides with UHV's commitment to support Closing the Gaps, the Texas Higher Education Coordinating Board's plan to close the state's educational gaps in student participation, student success, excellence and research by 2015. This initiative is specifically designed to increase minority-student participation and success in Texas higher education. It also compliments UHV's membership in Project Degree Completion, a national project to have 60 percent of adults possess a college degree by 2025.  
"Since national polling data began to be collected in the 1940s, a college degree is still the best predictor of socioeconomic progress in the U.S." Castile added. "UHV already had a streamlined way of completing an undergraduate degree quickly with our Dn3. Now we are making a degree even more affordable to cost-conscious, highly motivated students."  
For more information about the $10,000 Dn3, contact Samantha Bell, advising specialist in UHV's School of Arts & Sciences, at 361-570-4184 or bellsk@uhv.edu.
The University of Houston-Victoria, located in the heart of the Coastal Bend region since 1973 in Victoria, Texas, offers courses leading to more than 80 academic programs in the schools of Arts & Sciences; Business Administration; and Education, Health Professions & Human Development. UHV provides face-to-face classes at its Victoria campus, as well as an instructional site in Katy, Texas, and online classes that students can take from anywhere. UHV supports the American Association of State Colleges and Universities Opportunities for All initiative to increase awareness about state colleges and universities and the important role they have in providing a high-quality and accessible education to an increasingly diverse student population, as well as contributing to regional and state economic development.