Close
UHV adds to Black History Month celebration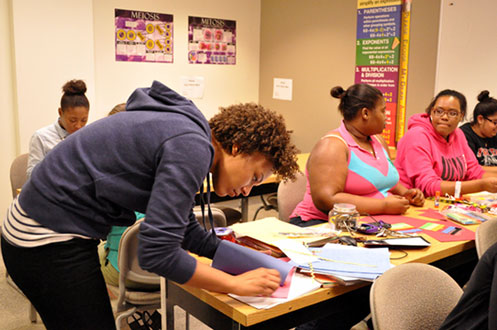 UHV students Alba Sanchez, left, Frankie Pace and Brea Matchett decorate posters about important African American events, people and court cases. The posters will be hung around the university's campus as part of Black History Month.
The University of Houston-Victoria is adding new events to its Black History Month festivities after an assistant professor of history was approached by a group of students wanting to celebrate their heritage.  
The new events – a lecture series and the students' version of an Underground Railroad – will be in addition to UHV's established events with the Black History Steering Committee and Victoria College. These events include a fifth-grader poster contest, parade and festival.  
"When the students approached me last semester, they already had great ideas mapped out about how they could participate in Black History Month," Beverly Tomek said. "Their enthusiasm was amazing. They were quick to jump on this project to make it happen."  
The students' interest in enhancing UHV's Black History Month celebration was inspired by Tomek's history lectures, UHV student Destiny Mayfield said.  
"It's not just African American students participating in this project," she said. "Dr. Tomek has motivated us to want to pursue an understanding of how society works outside of the classroom."  
Justin Bell, a UHV assistant professor of philosophy, agreed that it is important for all people – no matter what their race or background – to participate in Black History Month.  
"It can be hard for people to step outside of their lives and see that others have different experiences of the same world," Bell said. "The only way to truly understand our society is to learn about how other people live and about their history."  
Bell will discuss this topic during the new Black History Month lecture series held in February. All lectures will be from 11:30 a.m. to 12:30 p.m. with the exception of the Feb. 19 lecture, which will be from noon to 1 p.m. They will be in the Alcorn Auditorium of UHV University West, 3007 N. Ben Wilson St., and are free and open to the public. The lecture schedule is:  
Feb. 13 – "W.E.B. Du Bois and Double Consciousness: Why Everyone Should Pay Attention in February" presented by Bell
Feb. 19 – "The Harlem Renaissance" presented by English lecturer Jeffrey Sartain
Feb. 20 – "African Americans and the Long Road to Emancipation" presented by Tomek
Feb. 27 – "William Goyens: Free Black on the Texas Frontier" presented by education professor Diane Prince  
Students will hang posters about African American history around UHV at various locations, like the stations of the Underground Railroad, Tomek said.  
Nine different stations will be set up around campus, each representing a certain theme in African American history. For example, a shuttle bus will highlight Rosa Parks and the fight for equal transportation, while the dining hall will display posters about the fight against segregation in public facilities, such as restaurants.  
Student volunteers created posters about important black history events, people and court cases. They will be on display around the university throughout February. The public is invited to visit the UHV campus during normal business hours to learn about the history.  
Tomek said she would like to see these new celebrations become a tradition at UHV.  
"I think it's great that the students are getting involved with UHV's Black History Month celebration," Tomek said. "I would like to expand our efforts in the future by incorporating Victoria's African American history."  
UHV also is partnering with the Black History Steering Committee and Victoria College to host a poster contest, parade and festival. All events are free to attend and open to the public.  
Each year, the steering committee uses the national theme for the poster contest and asks area fifth-grade students to submit their interpretation of the theme. This year's theme is "At the Crossroads of Freedom and Equality: The Emancipation Proclamation and the March on Washington."  
Winners of the poster contest will be announced during a reception at 5:30 p.m. Feb. 8 in the UHV University Center Multi-Purpose Room, 3007 N. Ben Wilson St. Prizes for the winners include scholarships to UHV and summer camp waivers from Victoria College. The event will feature entertainment by the Victoria East High School Hip Hop Team.  
On Feb. 9, the steering committee will host a parade and festival for the community. The parade will begin at 10 a.m., starting at Patti Welder Middle School, 1604 E. North St., heading down North Street and ending at the Victoria Community Center, 2905 E. North St.  
At the end of the parade is the festival at the community center from 10 a.m. to 4 p.m. The event includes vendors, food and live music. Money raised from the festival by the Black History Steering Committee will go toward scholarships for area students.  
For more information about the parade, contact DeAnn Vilchez at 361-237-4636. For more information about the festival, contact Sherilyn Shelton at 361-827-2784.  
For more information about the UHV lectures or to share local African American history stories, contact Tomek at tomekb@uhv.edu or 361-570-4363.  
The University of Houston-Victoria, located in the heart of the Coastal Bend region since 1973 in Victoria, Texas, offers courses leading to more than 80 academic programs in the schools of Arts & Sciences; Business Administration; and Education, Health Professions & Human Development. UHV provides face-to-face classes at its Victoria campus, as well as an instructional site in Katy, Texas, and online classes that students can take from anywhere. UHV supports the American Association of State Colleges and Universities Opportunities for All initiative to increase awareness about state colleges and universities and the important role they have in providing a high-quality and accessible education to an increasingly diverse student population, as well as contributing to regional and state economic development.