Close
UHV business student's paper chosen for publication in management journal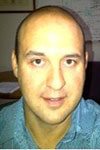 Sol Bobst
Sol Bobst's oil and gas industry job requires him to work on projects with colleagues from across the globe.  
"Communication is a mixture of emails 24 hours a day, instant messaging, teleconferences, desktop sharing and phone messages," he said. "Sometimes it can go well, and sometimes it can be a disaster."  
Through experience, Bobst learned that trust within a global, virtual team is a key factor for a project to be completed on time and on budget. He decided to make building and retaining trust in a virtual work environment the topic of his fall 2010 term paper for a management class at the University of Houston-Victoria.  
Bobst's paper, "Building Trust in a Global, Virtual Environment: Development of a Practical Model," will be published in the January-March 2013 edition of the Journal of Management Value & Ethics. The journal is scheduled to go to press later this month.  
"It was really satisfying turning a class project into something that anyone in the world could read," he said.  
Bobst, a senior regulatory compliance and toxicology advisor at Nexeo Solutions in The Woodlands, is pursuing a Master of Business Administration and a Master of Science in Economic Development and Entrepreneurship from UHV. He is taking classes for both programs part time and plans to graduate during the 2014-2015 school year.  
Research for the paper turned up four important factors to building trust in group dynamics – knowledge sharing, power sharing, effective monitoring and relationship management.  
"I found these four concepts individually in many research articles and case studies, but I didn't come across any single article that mentioned them together as one trust model," Bobst said. "I combined those factors into one approach that a manager can use to build trust in global, virtual work environments."  
Bobst, a Houston resident since 1997, wrote the term paper in UHV associate professor Chun-Sheng Yu's "Management and Organizational Behavior" class. Bobst said Yu encouraged his students to present their papers and look for publication opportunities.  
"Dr. Yu wanted us to apply what we learned to real-life settings outside of the university," Bobst said.  
In April of 2011, Bobst's paper was accepted for presentation at the International Academy of Business and Public Administration Disciplines conference in Dallas. Bobst used the social media site LinkedIn to get in touch with the Journal of Management Values & Ethics editor. He submitted the article to the journal shortly after.  
The journal contains articles dealing with the empirical and conceptual studies based on management, especially those that demonstrate how concepts and ideas about management can be put into practice. The India-based journal is published quarterly.  
The editor of the journal sent Bobst a letter stating his paper was worthy of publication. All papers considered are blindly reviewed by two management experts.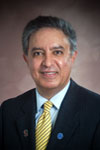 Farhang Niroomand
"I feel this paper is a useful, novel contribution to the study of management," Bobst said. "I hope it will be a useful reference for managers. I want to thank UHV's School of Business Administration. The university does a great job of providing course work that encourages students to relate the theory they learn in the classroom to current work experience."  
Farhang Niroomand, dean of the UHV School of Business Administration, was pleased Bobst's paper was accepted for publication.  
"Many of our management faculty members have been published in management journals, but it's not every day one of our students accomplishes this feat," he said. "I congratulate Sol for this accomplishment, and we are looking forward to seeing his article in print when the journal is published."
The University of Houston-Victoria, located in the heart of the Coastal Bend region since 1973 in Victoria, Texas, offers courses leading to more than 80 academic programs in the schools of Arts & Sciences; Business Administration; and Education, Health Professions & Human Development. UHV provides face-to-face classes at its Victoria campus, as well as an instructional site in Katy, Texas, and online classes that students can take from anywhere. UHV supports the American Association of State Colleges and Universities Opportunities for All initiative to increase awareness about state colleges and universities and the important role they have in providing a high-quality and accessible education to an increasingly diverse student population, as well as contributing to regional and state economic development.