Close
Stories keep going for UHV freshman writer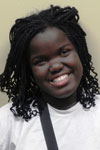 Khadesia Redd
Most people are content to take stories at face value. The characters and actions are what they are and once complete, the reader moves on to something else.  
University of Houston-Victoria freshman Khadesia Nedd wondered what happened next.  
The bookworm decided to answer that question herself by writing fan fiction. Throughout her tales, beloved characters continued their journeys, faced new obstacles and continued on as long as she chose. That pastime grew into poetry and eventually short stories. Before she knew it, Nedd was a writer.  
"I love writing. I love taking all of my memories – good and bad – and creating something beautiful out of them," Nedd said. "I love sharing that perspective with others. So that's why I'm so focused on making memories in college, making memories for everyone."
Nedd was born and raised in Missouri City and graduated from Bellaire High School in 2012. It was affordability, combined with the fact that undergraduates were still new to UHV, that led her to become a Jaguar. She is majoring in humanities – creative writing.  
"I like that I can really leave my footprint here," she said. "It's small and intimate, and I can really stand out. I can make a difference."  
The 19-year-old already has set those plans into action.  
Nedd is involved with the Community Council, an organization that meets monthly to discuss what works for Jaguar Hall residents, what could use improvement and other changes students want to see.  
"I wasn't part of the group in the fall, but I saw that it helped improve the quality of food at the dorm," she said. "I don't just want people to be satisfied. I want people to love UHV and call it home."  
Nedd also serves as president of the university's Rosebud Film Society, a group of students who meet to watch and discuss various films. The society would like to give the Victoria Independent Film Festival a presence at UHV.  
Looking ahead, Nedd plans to attend graduate school and pursue a career in either journalism or early childhood education. She also might carve a path for herself writing screenplays and TV shows.  
In the meantime, she's content keeping busy on campus and leaving her mark.  
"If I can make others happy, that would make me happy," she said. "I just need to keep going."  
I am a Jaguar is an online feature highlighting the exceptional students who attend the University of Houston-Victoria. To nominate a student, contact Paula Cobler, UHV interim director of marketing and communications, or call 361-570-4350.
The University of Houston-Victoria, located in the heart of the Coastal Bend region since 1973 in Victoria, Texas, offers courses leading to more than 80 academic programs in the schools of Arts & Sciences; Business Administration; and Education, Health Professions & Human Development. UHV provides face-to-face classes at its Victoria campus, as well as an instructional site in Katy, Texas, and online classes that students can take from anywhere. UHV supports the American Association of State Colleges and Universities Opportunities for All initiative to increase awareness about state colleges and universities and the important role they have in providing a high-quality and accessible education to an increasingly diverse student population, as well as contributing to regional and state economic development.