Close
UHV biology, psychology professor researches how horses learn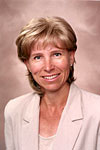 Sandy Venneman
It was a common sight in the Missouri town – the young girl on her bike, a bag of feed balanced just so, pedaling her way to care for her horse.
"My mother made the mistake of letting me sit on a horse at age 3," Sandy Venneman said while laughing. "The deal was done. From that point on, that's all I've ever wanted."
The University of Houston-Victoria professor has incorporated her love of horses with her love of teaching. A lifelong analyst with an interest in brain physiology, Venneman travels the country educating people about how horses learn. She also recently completed a project that analyzes equestrians' characteristics and how those relate to competitive success, so riders can better understand why horses act the way they do.
"I guess that's my 'fluffy research,'" she said. "But it really is interesting to kind of boil things down and take a look at them. These are things people don't always think about."
Venneman earned a bachelor's degree in biology from the University of Missouri at St. Louis, and master's and doctorate degrees in experimental psychology from St. Louis University. Her research there included the efficacy of an anesthetic commonly used in veterinary practice.
After a post-doctorate in neuroscience at UCLA's Neuropsychiatric Institute, she joined UHV's School of Arts & Sciences faculty. She has taught biology and psychology courses at UHV for 14 years. Although, at first glance, the two subjects might not appear to mesh, Venneman said they overlap more than one might think.
"Every motion you make and every emotion you have, it's all your brain," she said. "The basis of all behavior is biology. It's your brain."
The educator utilizes demonstrations and online links to explain the biological basis of behavior, and her work has brought her recognition. Venneman was a two-time ENRON Teaching Excellence Award winner and she received UHV's Faculty Service Award for the 2005-2006 academic year.
She continues her research efforts today. One current project hones in on end of life issues families face with ailing loved ones.
Despite the messages some TV programs portray, it oftentimes isn't appropriate to resuscitate elderly individuals in cardiac arrest, she said, noting that efforts can break ribs and puncture lungs without being successful. A portion of her research looks at the possibility of rewording "do not resuscitate" orders to "allow natural death." Brain research has shown that it is more difficult to process statements made in the negative, such as "do not" than those stated in the positive.
"This alternative wording enables families to feel more comfortable in making that decision, whereas 'do not resuscitate' sounds as if they're denying that person something they're owed," she said. "In the end, you want appropriate care for the person without undo harm."
The Faculty Feature is an online feature highlighting faculty members from each of the University of Houston-Victoria's four schools. To nominate a faculty member, contact Paula Cobler. UHV interim director of marketing and communications, or call 361-570-4350.
The University of Houston-Victoria, located in the heart of the Coastal Bend region since 1973 in Victoria, Texas, offers courses leading to more than 80 academic programs in the schools of Arts & Sciences; Business Administration; and Education, Health Professions & Human Development. UHV provides face-to-face classes at its Victoria campus, as well as an instructional site in Katy, Texas, and online classes that students can take from anywhere. UHV supports the American Association of State Colleges and Universities Opportunities for All initiative to increase awareness about state colleges and universities and the important role they have in providing a high-quality and accessible education to an increasingly diverse student population, as well as contributing to regional and state economic development.