Close
Golf association creates endowment for UHV Presidential Scholarship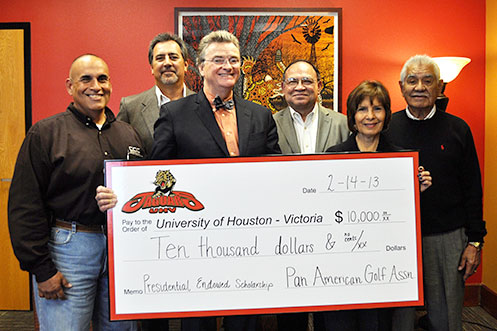 Members of the Pan American Golf Association present a $10,000 check to University of Houston-Victoria President Phil Castille to establish the first Presidential Scholarship endowment from an organization. Those pictured are, left to right, Fred Martinez, PAGA president; Hector Valderaz, PAGA tournament director; Castille; Genaro Cortez, PAGA treasurer and UHV safety and risk manager; Viola Saenz, PAGA secretary and member of the UHV President's Regional Advisory Board; and Raymond Saenz, PAGA past president.
The Pan American Golf Association of Victoria is the first organization to establish a $10,000 endowment to support the University of Houston-Victoria Presidential Scholarship.
"When UHV President Phil Castille announced he was promoting academic-based scholarships at UHV, our organization felt it was important to support his call," said Viola Saenz, the secretary of the Pan American Golf Association and a member of UHV President's Regional Advisory Board.
Members of the organization presented the check on Feb. 14 to Castille.
The Presidential Scholarship is a merit-based scholarship that offers financial support for students outside the Victoria area with successful academic high school careers who continue their academic achievements at UHV. Up to 10 $3,000 scholarships will be awarded each year to entering freshmen, and the scholarship can be renewed for four years. Students who are in the top 15 percent of their high school graduating class and score at least a 27 on the ACT or 1,100 on the SAT are eligible.
This is the third endowment that supports the Presidential Scholarship. The President's Students Come First endowment was set up in 2005 with funds from the university and Dorothy Alcorn, retired owner of Alcorn Companies Inc. and a former member of the UH System Board of Regents. Castille and his wife, Shannon, also created an endowment in November from a personal donation.
"When Shannon and I established our endowment, I challenged the community to donate to more merit-based scholarships, so that UHV can be competitive in recruiting top high school students as entering freshmen," Castille said. "I'm so pleased that the Pan American Golf Association has answered that call. Donations like this ensure that we can attract more top-ranking high school students to UHV."
The Pan American Golf Association is a nonprofit organization created to promote golf and encourage community spirit by providing scholarships for area students pursuing higher education. Raymond Saenz started the Victoria chapter in 1968. It is one of 44 chapters in 10 states with a membership of more than 2,600. The organization has operated for more than 40 years. In 2010, it established an endowed scholarship for UHV golfers. The organization will raise more funds for scholarships on June 1 during its Annual Scholarship and Junior Golf Tournament at the The Club at Colony Creek.
"Our members are very proud to help students achieve their dreams," Saenz said. "We have always stressed the importance of education. There are a lot of families struggling to afford college for their children, so being able to help them out in this way means a lot to us."
The University of Houston-Victoria, located in the heart of the Coastal Bend region since 1973 in Victoria, Texas, offers courses leading to more than 80 academic programs in the schools of Arts & Sciences; Business Administration; and Education, Health Professions & Human Development. UHV provides face-to-face classes at its Victoria campus, as well as an instructional site in Katy, Texas, and online classes that students can take from anywhere. UHV supports the American Association of State Colleges and Universities Opportunities for All initiative to increase awareness about state colleges and universities and the important role they have in providing a high-quality and accessible education to an increasingly diverse student population, as well as contributing to regional and state economic development.