Close
UHV freshman learns from history
Many people maintain the mindset that what's past is past, and a person can't go back. For University of Houston-Victoria freshman Issac Payne, however, his thinking is somewhat different.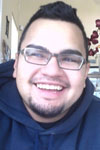 Issac Payne
 "History really is important," he said. "You can learn a lot from the things that have already happened. It's great to know where you came from."  
The San Antonio native's love of the past started early when he learned of his grandfather's military service. The stories his grandfather told from World War II were intriguing, and Payne wanted to learn more.  
"He was actually on the front lines," Payne said. "He was in the middle of everything. Learning what he went through made me curious about other events, too. I guess it grew from there."  
Payne is a history major, and he plans to minor in education. Eventually, he hopes to become a history professor.  
Born the sixth of seven children, Payne graduated in 2012 from Thomas Edison High School in San Antonio. He was the first member of his family to earn a high school diploma. That milestone meant a lot, but he hopes it doesn't end there. He said he'd like to inspire his family to pursue higher education.  
"Now I've set the bar for my sister," he said. "When it's time for her to sign up for college, she'll be prepared. And I'll definitely support her."  
Away from his studies, Payne, 18, enjoys spending time with friends and playing pool in Jaguar Hall. He also likes to play his guitar, a hobby he began at age 12.  
He encouraged other students to pursue more than just a college degree. Instead they should pick a degree program – and eventually a career – they feel passionate about.  
"Find what you love and stick to it," he said. "What matters is knowing what you want to do and where you want to go. If you've got your goals straight, you can get it done."  
I am a Jaguar is an online feature highlighting the exceptional students who attend the University of Houston-Victoria. To nominate a student, contact Paula Cobler, UHV interim director of marketing and communications, or call 361-570-4350.
The University of Houston-Victoria, located in the heart of the Coastal Bend region since 1973 in Victoria, Texas, offers courses leading to more than 80 academic programs in the schools of Arts & Sciences; Business Administration; and Education, Health Professions & Human Development. UHV provides face-to-face classes at its Victoria campus, as well as an instructional site in Katy, Texas, and online classes that students can take from anywhere. UHV supports the American Association of State Colleges and Universities Opportunities for All initiative to increase awareness about state colleges and universities and the important role they have in providing a high-quality and accessible education to an increasingly diverse student population, as well as contributing to regional and state economic development.