Close
ConocoPhillips executive shares stories with UHV business students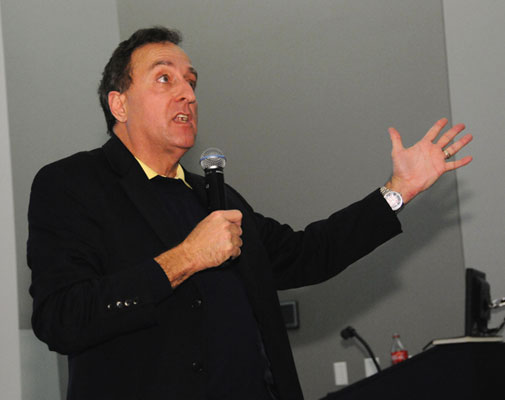 Jim Duncan, chief analyst and commodity market strategist for ConocoPhillips, gives a speech during the University of Houston-Victoria School of Business Administration's Willis Group Distinguished Speaker Series Wednesday at UH Sugar Land.
SUGAR LAND – Students, faculty, alumni and guests attending a University of Houston-Victoria School of Business Administration event on Wednesday learned how various market, supply and technological factors have an impact on the price of oil and natural gas.  
Jim Duncan, chief analyst and commodity market strategist for ConocoPhillips, spoke at UH Sugar Land in the latest installment of the business school's Willis Group Distinguished Speaker Series. Duncan described how a variety of geopolitical, weather and economic factors around the world affects prices.  
"He explained how the discovery of new oil and shale deposits has greatly expanded worldwide supplies and driven down prices, and how that in turn has affected consumers, suppliers and other manufacturers," said Jeff Blodgett, associate dean for the UHV School of Business Administration.  
Nazim Maknoja, a UHV Master of Business Administration student and secretary of the MBA Student Association, said the event was informative. He especially enjoyed listening to Duncan talk about management and strategy procedures.  
"Dr. Duncan shared a lot of useful information about the industry," Maknoja said. "What I found most interesting was his explanation about how the economy affects the prices of oil and gas worldwide. It was really helpful for me because I have plans to join the oil and gas industry after graduation."  
Duncan is in charge of developing the market research team for the commercial marketing arm of ConocoPhillips. His job entails strategic financial planning, economic forecasting, feasibility studies and environmental impact studies. His expertise is in using mathematical modeling to simulate financial markets.  
Hadi Assaad, a UHV School of Business Administration alumnus who owns retail clothing stores in Houston, said that Duncan forecast that oil prices will stay around $95 a barrel in the near future.
"He talked about using a combination of fundamental and technical data as well as sentiment to analyze stocks, sectors and the overall market," Assaad said. "He also indicated that reliable data is the key to answering a lot of questions and making decisions in the oil and gas industry. This was one of the most interesting business speeches I've attended because it gave me a different perspective on the industry."  
Duncan earned a Bachelor of Science in chemistry from Millsap College in Jackson, Miss. He went on to obtain a master's and doctorate in chemistry from the University of Houston. Before joining ConocoPhillips in 2000, Duncan worked as a manager, researcher and senior analyst for KN Energy.  
Lynette Rhodes-Garmonsway, vice president of communications and development for the Willis Group, said one of the things that struck her about the speech was when Duncan talked about job security versus career security.  
"He was talking about his move from a chemist to an analyst," she said. "The fact he talked about shifting careers is important because our economy doesn't support jobs for life. Most graduates don't expect to have the same career throughout their working lives. For a lot of people, they don't know how to approach career shifts mentally and Dr. Duncan illustrated this through talking about his transition into a business environment."  
Farhang Niroomand, dean of the UHV School of Business Administration, thanked Duncan for sharing his experiences.  
"One of the ideas behind the Willis Group Distinguished Speaker Series is to hear directly from local executives about their jobs and what it takes to be successful in their profession," he said. "Dr. Duncan gave a great presentation that I think resonated with our students. I can see why he's one of the most popular speakers in the natural gas industry."  
The Willis Group Distinguished Speaker Series brings in local executives to discuss contemporary business issues. The Willis Group includes multiple companies that address a variety of business staffing needs and solutions. Through its agreement with the UHV School of Business Administration, the Willis Group creates opportunities by providing business students with professional development and career placement assistance, supports faculty research and classroom instruction, and actively participates in events to promote the success of the business school and its students.  
The series began in 2011. Past speakers include John Ragan, executive vice president and regional president of NRG Energy; Farouk Shami, founder and chairman of Farouk Systems; Ron Ledbetter, vice president of Subsea Systems for INTECSEA; Jerry Moreno, manager of human capital performance at Spectra Energy Corp.; Michael T. Willis, chairman of The Willis Group; and Heber Larcerda, president and CEO of Regency Nursing and Rehabilitation Centers.
The University of Houston-Victoria, located in the heart of the Coastal Bend region since 1973 in Victoria, Texas, offers courses leading to more than 80 academic programs in the schools of Arts & Sciences; Business Administration; and Education, Health Professions & Human Development. UHV provides face-to-face classes at its Victoria campus, as well as an instructional site in Katy, Texas, and online classes that students can take from anywhere. UHV supports the American Association of State Colleges and Universities Opportunities for All initiative to increase awareness about state colleges and universities and the important role they have in providing a high-quality and accessible education to an increasingly diverse student population, as well as contributing to regional and state economic development.