Close
UHV professor teaches high school students about robotics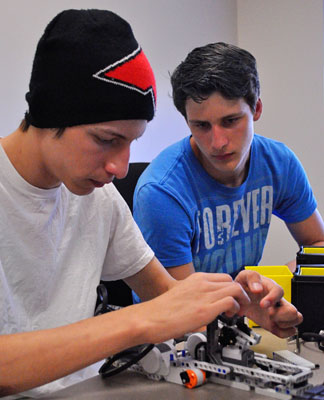 Victoria West High School students Ruben Cavazos, left, and Kevin Clark program a robot to sort colored balls. They are part of a year-long University of Houston-Victoria robotics program for area high school students.
Ten area high school students are spending the school year learning about robotics and computer programming at the University of Houston-Victoria as part of a program funded by Alcoa Foundation.  
The students meet every Monday with Alireza Tavakkoli, a UHV assistant professor and director of UHV's digital gaming and simulation program. They use advanced LEGO robotics kits and computer programming software to build various robots. The students will show off their creations during the UHV/Victoria College Math & Computer Science Awareness Day on April 9.  
"Through this program, we are able to discuss different career opportunities that use robotics, such as working with manufacturing and automation at Alcoa, Caterpillar and NASA," Tavakkoli said.  
The program started last year as a semester-long course and has expanded to a full year. The students first met with Tavakkoli in August and will complete the program in May. More than 30 students applied to participate, and only 10 were selected.  
"Applying for the program was the first time I had to create a resume and cover letter," said Kevin Clark, Victoria West High School freshman. "This experience has taught me a lot about how important computer programming is in our lives. I think it would be a fun career."  
One goal of Alcoa Foundation is to help local students excel in science, technology, engineering, and mathematics – also known as STEM education, said Ben Kahrs, location manager at Alcoa Point Comfort Operations.  
"Alcoa is proud to sponsor the robotics program," he said. "Dr. Tavakkoli's students at the 2012 Math & Computer Science Awareness Day had so much energy and enthusiasm for their projects. It was inspiring to see their intensity and sense of purpose in designing, testing and demonstrating their robots' capabilities."  
The students have built several different versions of robots throughout the year. They started with simple robots that moved forward and side to side, and progressed to more advanced robots that could navigate a maze or move along a wall.  
"These students are learning about robots that are useful in the real world," Tavakkoli said. "They are able to see how robotics and computer science fit into the world they live in. For example, the wall-crawling robot is similar technology to the iRobot Roomba vacuum cleaner."  
At the UHV/VC Math & Computer Science Awareness Day, also funded by the grant from Alcoa Foundation, the students will demonstrate robots that can sort colored balls and launch them. They also will demonstrate robots that use artificial intelligence to navigate a maze. These robots are programmed to navigate any maze using technology and sensors. The robots determine the farthest wall and move toward that point.  
The math and computer science event will gather area high school students for competition and interaction with local students and professionals. High school teachers can register their students for the event at mathcs.aiatuhv.com. Teachers must register teams by March 29 but are encouraged to register by March 22.  
The UHV/VC Math & Computer Science Awareness Day and the robotics program are special because there aren't a lot of local opportunities for high school students to gain STEM experience on a higher level, Tavakkoli said.  
"I hope that one day we will have a sustained program for high school students who want to learn more and participate in college-level research and development," he said. "It's important that we encourage the students who want to be academically challenged so they will want to have a STEM-based career. For some students, this is the only opportunity they have to participate in a robotics class."  
Kahrs said supporting the future careers of these students is what makes the grant donation worthwhile.  
 "The students' passion, creativity and ability to take an idea from concept to reality are exactly the characteristics they'll need as they continue their education and enter the work world," he said.
The University of Houston-Victoria, located in the heart of the Coastal Bend region since 1973 in Victoria, Texas, offers courses leading to more than 80 academic programs in the schools of Arts & Sciences; Business Administration; and Education, Health Professions & Human Development. UHV provides face-to-face classes at its Victoria campus, as well as an instructional site in Katy, Texas, and online classes that students can take from anywhere. UHV supports the American Association of State Colleges and Universities Opportunities for All initiative to increase awareness about state colleges and universities and the important role they have in providing a high-quality and accessible education to an increasingly diverse student population, as well as contributing to regional and state economic development.