Close
Freshman hopes to coach high school football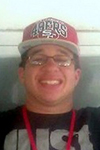 Nick Cross
It was a cool evening in early March when Nicholas "Nick" Cross stepped onto the field, prepared to lead his team to football victory. But the athletes who emerged weren't the burly men in padding often associated with the sport.
It was a group of enthusiastic college women.
Cross, a University of Houston-Victoria freshman, recently coached a game of powder puff football with friends at Jaguar Hall.
"We had a blast," he said shortly after the game ended. "It was a great experience – a little random, but a lot of fun."
That temporary role was a perfect fit for the 19-year-old, who said he aspires to coach high school football or physical education after graduation.
Cross got his start in football at age 11 and kept with it through the years. As the athlete honed his skills and continued training, he worked his way up to the all-state team in high school.
His reasons behind the love of the game are simple.
"I got to hit people without getting into trouble," he said with a laugh. "It was just a cool sport to play."
Cross was born and raised in Houston and graduated in 2012 from South Houston High School. Today he majors in communication at UHV.
The switch from big-city life to a college experience in a smaller town has taken some adjustment, but it's been a positive change, he said.
And as a first-generation college student, his time at school isn't just about himself, Cross said. It's also a way to encourage those he loves to work toward their goals.
"Every time I go back home, I tell my little sisters and cousins how important it is to go to college," he said. "It's pretty cool that I have people – even my older cousins - looking up to me now. It's a good feeling."
He encourages others just starting out in school to remember why they're there. College life is fun, but school work is the key.
"Just study," he said. "Study a lot. It's easy to start slacking off, but you can't do that. You just have to keep going."
Looking ahead, Cross is excited to continue his courses and anxious to begin a career in athletics. In the meantime, however, he plans to enjoy his time on campus.
As for that powder puff game, it didn't go exactly as planned.
"We lost," he said as he sighed. "It was 18 to 16. But we had fun."
I am a Jaguar is an online feature highlighting the exceptional students who attend the University of Houston-Victoria. To nominate a student, contact Paula Cobler, UHV interim director of marketing and communications, or call 361-570-4350.
The University of Houston-Victoria, located in the heart of the Coastal Bend region since 1973 in Victoria, Texas, offers courses leading to more than 80 academic programs in the schools of Arts & Sciences; Business Administration; and Education, Health Professions & Human Development. UHV provides face-to-face classes at its Victoria campus, as well as an instructional site in Katy, Texas, and online classes that students can take from anywhere. UHV supports the American Association of State Colleges and Universities Opportunities for All initiative to increase awareness about state colleges and universities and the important role they have in providing a high-quality and accessible education to an increasingly diverse student population, as well as contributing to regional and state economic development.