Close
Freshman starts UHV Martial Arts Club to teach taekwondo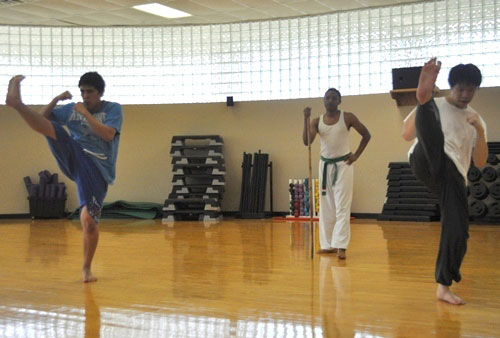 Juan Manzanares, left, and Henry Huynh practice down kicks while head instructor Jordan Antoine gives instructions during Friday's UHV Martial Arts Club practice. Club members train in taekwondo and other forms of martial arts every weekday.
When Jordan Antoine arrived at the University of Houston-Victoria in January, he knew he wanted to continue practicing taekwondo, but he didn't know anyone he could spar with.  
During the transfer student's first night in Victoria, Antoine struck up a conversation with Elvin Mumphord, a UHV security officer who shared a similar interest in martial arts. Mumphord took Antoine around town to visit martial arts businesses, but the cost of joining was too much. That's when Antoine decided to become a teacher rather than a student.  
"I realized there wasn't a martial arts club at UHV, and no one was going to start one but me," Antoine said. "It started off as an idea to keep up with my training and went from there."  
While Antoine and Mumphord liked the idea of forming the UHV Martial Arts Club, they weren't sure if anyone else would. They held an introductory meeting in February inviting interested students, faculty and staff from UHV and Victoria College.  
"I was scared," Antoine said. "I didn't know if anyone would show up."  
They did, and a month later, Antoine is the captain and head instructor of the club. Mumphord serves as the club's sponsor. Antoine, Mumphord and four students meet every weekday. Sessions are 6 to 8 p.m. Monday through Thursday in the Jaguar Hall Commons and 2 to 5 p.m. Friday in the aerobics room at the Victoria College Sports Center.  
"My mom was a little worried about my studies and asked why the club had to meet every day," Antoine said. "I told her, 'You can't grow if you're not working on it every day.'"  
Antoine said Mumphord and club members Henry Huynh, Juan Manzanares, Leslie Reed and Cordell Baham have brought their own martial arts knowledge and experience to practices.  
"We try to do a little bit of everything, but it's predominantly taekwondo," he said. "I try to incorporate some of my kung fu into my teaching. I recently checked out books on aikido for counters and grappling, and Muay Thai for kicking power."  
Mumphord, who has a green belt in karate, assists with techniques and stances. During the first few days of the club's formation, he asked why everyone joined the club.  
"They told me it was to strengthen themselves more in discipline and to protect themselves and whoever was with them," he said.  
Mumphord said that was the answer he wanted. While movies and TV glorify martial arts, he sees practical uses in everyday life.  
"I have been working in security since 2002," he said. "Martial arts have helped me get and stay in the best shape, and they have taught me discipline. I know not to get angry about little things."  
Originally from Lake Charles, La., Antoine's family moved to Houston when he was 6. He started practicing a southern form of kung fu called Choy Li Fut when he was 11. He took up taekwondo during his senior year of high school.  
"For three weeks, I walked over to Young Brothers Taekwondo in Houston to talk to the grandmaster, but he was never there," Antoine said. "He finally came in one day, and he asked if I wanted to work for him. He trained me, and I helped teach the kids."  
Antoine was part of a student martial arts club at Dillard University in New Orleans before he transferred to UHV. He is majoring in digital gaming and simulation with a minor in English.  
As club captain, Antoine has taken on a lot of responsibility, such as taking care of the paperwork and advertising.  
"I didn't realize being captain of a club would be this much work," he said. "I'm never in my dorm room anymore. I have been in touch with contacts in New Orleans to make flyers and people in Houston for equipment. I've also spoken with banks about funding for the club. It's definitely been quite the experience."  
The club is open to UHV or VC students, faculty and staff committed to practicing taekwondo. To find out more, contact Antoine at 713-498-5837 or jordan.antoine@ymail.com.
The University of Houston-Victoria, located in the heart of the Coastal Bend region since 1973 in Victoria, Texas, offers courses leading to more than 80 academic programs in the schools of Arts & Sciences; Business Administration; and Education, Health Professions & Human Development. UHV provides face-to-face classes at its Victoria campus, as well as an instructional site in Katy, Texas, and online classes that students can take from anywhere. UHV supports the American Association of State Colleges and Universities Opportunities for All initiative to increase awareness about state colleges and universities and the important role they have in providing a high-quality and accessible education to an increasingly diverse student population, as well as contributing to regional and state economic development.