Close
UHV to host performance of 'Marx in Soho'
The philosophy of Karl Marx will be center stage next month in a free theater performance at the University of Houston-Victoria.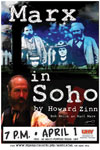 Marx in Soho
The production "Marx in Soho" will be performed at 7 p.m. April 1 in UHV's University Center Multi-Purpose Room, 3007 N. Ben Wilson St. The show is open to the public.  
The premise of "Marx in Soho" is that Marx returns to earth for one hour to defend the relevance of his ideas and highlight the serious social issues facing the world today. Through a bureaucratic error, Marx is sent to Soho in New York rather than London. When he arrives, Marx launches into a passionate, funny and moving defense of his life and political ideas.  
Gino Tozzi, a UHV lecturer of political science, said he hopes students will gain a better understanding of political philosophy from this event.  
"We want to pique their interest in politics," Tozzi said. "If their interest grows, they will want to know more about politics and economics. If students have a better understanding of those subjects, they will get more involved and be better decision makers."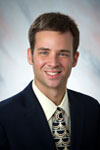 Gino Tozzi
About 90 UHV students are expected to attend. Tozzi said using the arts presents a different – and often effective – approach to educating students about political and economic philosophy.  
"We know every student learns differently, so this is one way for students to learn about those philosophies and the pros and cons of them," he said.  
Written by the late Howard Zinn, the performance also introduces the audience to Marx's wife, Jenny; his children; anarchist Mikhail Bakunin and a host of other characters. Tozzi said attendees should keep in mind this is how Zinn interpreted Marxism.  
 "He's looked back at how people have used Marx's philosophy, such as its implementation in Russia and China and even how people viewed it in the U.S.," Tozzi said. "His main argument was that those interpretations are not what Marxism ought to be. He complains we abused his philosophy for our own purposes."  
Marx is portrayed by Bob Weick, a veteran actor who has appeared in movies, TV shows and numerous theater productions.  
"Weick is passionate about his craft, and he delivers a great performance," Tozzi said. "He knows everything by heart. He has a real beard and receding hairline that makes him look even more believable as Marx."  
The performance is sponsored by the UHV School of Arts & Sciences and the School of Business Administration. It's the second time "Marx in Soho" has been staged at UHV.  
For more information about the performance, contact Tozzi at 361-570-4344 or tozzig@uhv.edu.
The University of Houston-Victoria, located in the heart of the Coastal Bend region since 1973 in Victoria, Texas, offers courses leading to more than 80 academic programs in the schools of Arts & Sciences; Business Administration; and Education, Health Professions & Human Development. UHV provides face-to-face classes at its Victoria campus, as well as an instructional site in Katy, Texas, and online classes that students can take from anywhere. UHV supports the American Association of State Colleges and Universities Opportunities for All initiative to increase awareness about state colleges and universities and the important role they have in providing a high-quality and accessible education to an increasingly diverse student population, as well as contributing to regional and state economic development.