Close
Decades-old UHV student newspapers now online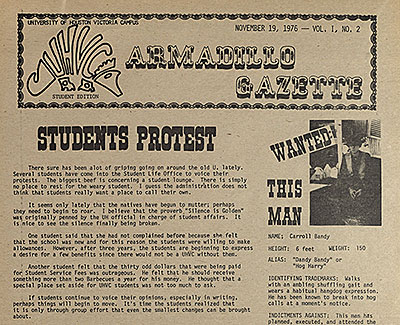 The Nov. 19, 1976, Armadillo Gazette is one of the University of Houston-Victoria student newspapers recently digitized and placed online by the Victoria College/UHV Library.
The Victoria College/University of Houston-Victoria Library recently made it much easier to find out what was happening at UHV during the 1970s and 1980s.
As its contribution to UHV's 40th anniversary this year, library staff digitized many UHV student newspapers from 1976 to 1987. The newspapers – which are searchable by name, date or event – can be viewed by visiting http://digitalcollections.uhv.edu/cdm/landingpage/collection/UHVA.
A quick search for a newspaper from 30 years ago turns up articles on the Magna Carta being displayed in Victoria and on UHV faculty and students who ran competitively as members of the Victoria Joggers Association. Harold Smith, a UHV professor of history and humanities, is mentioned in both articles.
Media Librarian Jennifer Foster said the most frequent inquiry about the newspapers comes from alumni who want a reminder about what was going on when they attended UHV.
"They want help remembering someone's name or to reminisce about something that happened to a classmate," she said. "Some people just like to see a photo of themselves from their younger days. They get a huge kick out of looking at the old papers. By making them available online, anyone can see them."
UHV's student newspaper began in 1976 as the Armadillo Gazette and later switched names to the UHVC Gazette. The publication was renamed UH-Voice in 1984 after a name-that-paper contest. The winner received $100. All three papers have been digitized.
The newspapers are stored inside boxes in a temperature-controlled room at the library's Victoria Regional History Center, said Marie Adcock, library special collections assistant. The papers are in special acid-free Mylar protected sleeves. Visitors may view and take photographs of the original papers by going to the history center on the second floor of the library, 2602 N. Ben Jordan St.
"The only way in the past to take a look at these newspapers was to come to the library," Foster said. "By digitizing them, we make them available to people who would normally not have access to them. That's what the library is all about – providing access."
Sheron Barnes, special collections librarian, selected the issues for digitization, and Foster and another staff member spent about four months working on the project.
They scanned the old newspaper editions using a Book Eye, a high-tech machine purchased by UHV that has moveable parts for books and a large enough footprint to scan full newspaper pages. Foster used specialized Web-based display software to post the materials online. The money for the software was donated by the Victoria County Genealogy Society.
Several past and current UHV faculty and staff members had quotes or photos in newspaper editions. For example, Karen Locher, library associate director, was interviewed in a 1985 article about library changes. Smith, registrar Trudy Wortham and education professor Diane Prince all appeared in separate photos in a 1984 edition.
Sandra Heinold, UHV director of student success, was a student staff writer on the UH Voice in 1985 and 1986.
"It was great fun writing for the newspaper and talking with people for stories," Heinold said. "It helped get me really engaged with the university and the faculty. I really enjoyed being on the staff."
Heinold applauded the library for digitizing a part of the university's history.
"It's really important for us to go back and look at our history," she said. "Having easier access is beneficial because we can look back at things we've done well and look at some of the things that were dropped over time."
The newspapers were widely distributed on campus until 1987. It then became a newsletter for donors and later was changed to an internal newsletter, Foster said.
A link to the newspapers also will be posted on UHV's 40th anniversary website at 40th.uhv.edu.
The University of Houston-Victoria, located in the heart of the Coastal Bend region since 1973 in Victoria, Texas, offers courses leading to more than 80 academic programs in the schools of Arts & Sciences; Business Administration; and Education, Health Professions & Human Development. UHV provides face-to-face classes at its Victoria campus, as well as an instructional site in Katy, Texas, and online classes that students can take from anywhere. UHV supports the American Association of State Colleges and Universities Opportunities for All initiative to increase awareness about state colleges and universities and the important role they have in providing a high-quality and accessible education to an increasingly diverse student population, as well as contributing to regional and state economic development.