Close
UHV graduate student named associate editor of business journal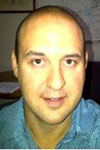 Sol Bobst
When it comes to opportunity, some people are simply lucky. For most, however, it takes a bit of elbow grease – not to mention some networking – to carve out that next big step in life.
That's University of Houston-Victoria business graduate student Sol Bobst's thinking, and it isn't something he simply advises others. He practices what he preaches.
Bobst recently was named associate editor of the Journal of Management Value & Ethics' editorial and advisory board, an international journal based out of India.
It all started, he said, through encouragement from a UHV professor.
As part of the UHV School of Business Administration's accreditation requirements for AACSB International – The Association to Advance Collegiate Schools of Business, Bobst was required to write a scholarly research paper for a management class. Students' work underwent rigorous grading by both the professor and the UHV Academic Center.
Associate Professor Chun-Sheng Yu, instructor of Sol Bobst's "Management and Organizational Behavior" course, encouraged students to share their findings by submitting abstracts to professional management societies and conferences.
"It got me thinking," Bobst said. "When I wrote that research paper, I saw a variety of different ideas for building trust in a global, virtual work environment, but no one put them all together in one paper. Why not do that myself?"
As he worked on the paper, he made connections on LinkedIn, a popular online networking site. It was there that he connected with the founder of the Journal of Management Value & Ethics.
"When the journal representatives connected with me, I told them about my paper, and they encouraged me to submit it," Bobst explained. "It was accepted as is, without any major revisions."
Shortly after, the editor approached Bobst about joining the editorial and advisory board. His nomination was reviewed by the journal's Board of Governors, and he was elected to the position of associate editor.
While Bobst said he is grateful for the position, he also hopes to provide opportunities for other students. He encouraged others interested in publishing their work to submit their papers to the journal.
"Every student has to put in effort to do a high-quality paper for their MBA degree at UHV," he said. "Why not try to share it with the world? It's also an opportunity to showcase your leadership in the field of management."
Bobst was born and raised in the Midwest and has harbored a longtime interest in both science and business.
He earned his bachelor's degree in chemistry from Drake University in Des Moines, Iowa and his doctorate in toxicology from the University of Texas Health Science Center at Houston.
Today, he is working toward two UHV master's degree courses – a Master of Business Administration and a Master of Science in Economic Development and Entrepreneurship – taking two classes a semester. A part-time schedule means it will take longer to complete his coursework, but it also carries benefits.
"I feel like I can apply what I'm learning a little better if I'm taking time to digest it and understand the material," said Bobst, who works at Nexeo Solutions LLC in The Woodlands. "I'm pretty fortunate to have a good job already, so I don't mind taking my time."
Bobst said he loves his work and time in class, but it isn't all that occupies his days.
The outdoorsman enjoys working out and adventure racing, and he also tries his hand at woodworking. He plays guitar and said he enjoys both music and art.
Bobst encouraged other students to be proactive when it comes to following their dreams and to use the tools they have at hand. LinkedIn can be helpful, he said, but write a personal message when connecting with someone and put effort into building relationships.
"Don't wait for something to happen to you," Bobst said. "Instead, make something happen for yourself. Also, be hospitable and reach out. If you pay it forward or do something positive, I think you'll find that positive experiences will come back to reward you."
For more information about the Journal of Management Value & Ethics, visit www.jmveindia.com. To contact Bobst about publishing or submitting a manuscript, email bobsts@uhv.edu.
I am a Jaguar is an online feature highlighting the exceptional students who attend the University of Houston-Victoria. To nominate a student, contact Paula Cobler, UHV interim director of marketing and communications, or call 361-570-4350.
The University of Houston-Victoria, located in the heart of the Coastal Bend region since 1973 in Victoria, Texas, offers courses leading to more than 80 academic programs in the schools of Arts & Sciences; Business Administration; and Education, Health Professions & Human Development. UHV provides face-to-face classes at its Victoria campus, as well as an instructional site in Katy, Texas, and online classes that students can take from anywhere. UHV supports the American Association of State Colleges and Universities Opportunities for All initiative to increase awareness about state colleges and universities and the important role they have in providing a high-quality and accessible education to an increasingly diverse student population, as well as contributing to regional and state economic development.