Close
UHV/ABR speaker uses visual language to convey message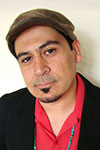 Tim Z. Hernandez
Author and poet Tim Z. Hernandez's use of visual-driven language gives readers the chance to create their own feelings about the cultural issues in his stories.
"If I put a picture in someone's mind, that's less information I have to give them," he said. "After my first book was published, someone pointed out that my work is very visual – like a painting. It finally made sense to me that I could recreate in words what I wasn't able to create fast enough in my paintings."
Hernandez will be the final speaker in the University of Houston-Victoria/America Book Review Spring Reading Series when he visits the university on April 25. The reading will be at noon in the Alcorn Auditorium of UHV University West, 3007 N. Ben Wilson St. The public is invited to attend the free event, and light refreshments will be served.
Before becoming an author, Hernandez studied paintings and murals. And while painting is on the back burner, he often finds that techniques he learned during his studies are useful for his visual writing. He also considers himself a performance artist, using different forms of art such as music, theater and paintings in his readings.
"I like playing with the line between the audience and the stage," he said. "In my readings, sometimes using body gestures or art help convey the words on the page to give the listener a better experience."
But Hernandez said his books are just an excuse to get into communities to talk about important issues.
"My books are a small ticket into talking with the audience about issues that plague our communities or things we should celebrate about our communities," he said.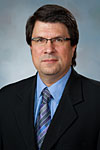 Jeffrey Di Leo
Jeffrey Di Leo, ABR editor and publisher, and dean of the UHV School of Arts & Sciences, said Hernandez will be an entertaining and dynamic speaker.
"His artistic way of presenting his writings will be a treat for the audience," he said. "And yet, we still will be able to discuss relevant cultural topics at the same time."
During his visit, Hernandez will read from his novel, "Breathing, In Dust," and his book of poems, "Natural Takeover of Small Things." Both are set in "the Bread Basket of the World," California's San Joaquin Valley, where the majority of the state's economy comes from agriculture.
Born and raised in the area, Hernandez started writing about the San Joaquin Valley after a job he had traveling through rural California recording people's stories. He realized that the area is a microcosm of the big-picture issues that are pressing in today's society.
"I learned that each of us is made of epic stories," he said "Every person behind each household was made of fantastic stories, so I would have been foolish not to tell the stories that were right in my backyard."
While the setting may be 1,000 miles away, the pressing issues he touches on parallel those found in Texas. Surface issues in his stories include poverty, agriculture, immigration, teen pregnancy and violence. But Hernandez said it all boils down to humanity.
"What I want people to take away from my stories is the humanity in all of us – having compassion for each other and knowing what it means to look at the human being next to you when you are passing judgment on them," he said.
Hernandez works as a program director for the Colorado Center for the Book, a state affiliate of the National Library of Congress. He trains published writers how to teach writing to K-12 students. The writers then spend 10 to 12 weeks in classrooms across Colorado teaching poetry, fiction or nonfiction.
His next novel, "Mañana Means Heaven," comes out in August. It tells the story of Bea Franco, the inspiration for the Mexican girl of Jack Kerouac's 1957 novel "On the Road," and her short-lived relationship with the famous author.
Hernandez also is working on a nonfiction book about the famous 1948 plane crash in Los Gatos Canyon near Fresno, Calif., that killed 32 passengers, including 28 Mexicans being deported. After finally identifying all the victims, Hernandez is working on putting their stories back together using newspaper clippings, letters and interviews from eye witnesses.
He had a recent break in his investigation of one of the Mexicans on the plane that relates to Texas. He thinks one of the victims has surviving family members in the Bay City area.
"I've been trying to reach out to the family," he said. "But it's a weird thing to contact people like that out of the blue. It's jarring, and people don't think that their family is really a part of this history."
Hernandez won the 2006 American Book Award for "Skin Tax," his debut collection of poetry. In addition to writing and teaching, he has collaborated with a Grammy award-winning classical composer and recorded a poem released on an album of a Latin hip-hop band.
While they are in Victoria, authors who are part of the reading series attend roundtable discussions with university faculty and students, make classroom visits to area schools, give lectures open to the community and go to receptions hosted by Friends of ABR patrons.
ABR is a nonprofit, internationally distributed literary journal that is published six times a year. It began in 1977, moved to UHV in 2007 and has a circulation of about 8,000. The journal specializes in reviews of works published by small presses.
For more information about the UHV/ABR Reading Series, call Managing Editor Jeffrey Sartain at 361-570-4254 or go to www.americanbookreview.org.
The University of Houston-Victoria, located in the heart of the Coastal Bend region since 1973 in Victoria, Texas, offers courses leading to more than 80 academic programs in the schools of Arts & Sciences; Business Administration; and Education, Health Professions & Human Development. UHV provides face-to-face classes at its Victoria campus, as well as an instructional site in Katy, Texas, and online classes that students can take from anywhere. UHV supports the American Association of State Colleges and Universities Opportunities for All initiative to increase awareness about state colleges and universities and the important role they have in providing a high-quality and accessible education to an increasingly diverse student population, as well as contributing to regional and state economic development.