Close
UHV nursing to pin first graduating class from the Woodlands
The first class from the University of Houston-Victoria's nursing program in The Woodlands will join fellow graduates who took the same program in Victoria at a special pinning ceremony Saturday.  
The UHV School of Nursing will pin 28 Registered Nurse to Bachelor of Science in Nursing graduates and six Master of Science in Nursing graduates during the 3 p.m. ceremony at Faith Family Church, 2002 E. Mockingbird Lane in Victoria. The nursing and UHV School of Business Administration commencement ceremony will proceed the pinning at 1 p.m. at the same location. Commencement for the schools of Arts & Sciences and Education & Human Development will begin at 9 a.m. at Faith Family.  
The pin presented to the nurses during the pinning ceremony will stay on their lapels for the rest of their professional careers to let patients know that well-educated nurses are caring for them. The pin itself signifies the nursing program from which a nurse graduated. Each nursing school has its own unique pin.  
Kathryn Tart, founding dean of the UHV School of Nursing, said the ceremony is a special way to recognize the hard work of the graduates.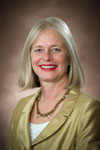 Kathryn Tart
"It's always a joyous occasion to see our graduates receive their pins, and it will be even more thrilling this time because it marks the ending point for the first class to finish our RN to BSN program in The Woodlands."  
UHV offers an accelerated, 12-month RN to BSN program that includes classroom instruction and clinical work every Tuesday. In addition to previously established programs in Victoria, Sugar Land and Katy, the program was expanded to The Woodlands for the first time last year. In June, 20 students began the program by attending classes at the Lone Star College University Center at Montgomery.  
Qingli Dong, a nurse who lives and works in The Woodlands, said UHV's program was convenient because it was nearby and face to face.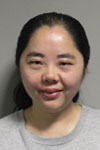 Qingli Dong
"Some of my coworkers took online RN to BSN programs, and they never saw any of their professors or classmates," Dong said. "I think it's easier to understand in a classroom setting. It's also easier to get questions answered. There's no need to email and wait for an answer."  
Dong earned an associate degree from Lone Star nine years ago. She received a postcard in the mail last year about UHV's program. She called the number, registered and started school a week later.  
"It takes some time sacrifices for homework, but the upside is it's only one year," Dong said. "I'm free after my final exam on Tuesday. It's a great program. Several of my coworkers are signed up for the next one starting in June."  
The Woodlands program has gained footing during the academic year with new agreements in place for students to obtain community and case management experience at local schools and hospitals.  
"Our students tell us they like attending classes in their own community, and they like being able to talk with the faculty face to face," said Denise Neill, a UHV associate professor and the RN to BSN coordinator. "Between work and family obligations, a long commute to and from school is unappealing and often not possible."  
The pinning ceremony will include a speech from LeAnn Wagner, a longtime nurse and former dean of the Victoria College Allied Health Division. Wagner has been a Registered Nurse for 44 years. Her experience includes obstetrics, nursery, surgical nursing and house supervision.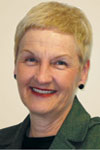 LeAnn Wagner
In 1973, Wagner began teaching at the El Paso Community College nursing program, serving as a faculty member, level coordinator, discipline coordinator and assistant director of the program. In 1982, she joined the Victoria College faculty in the Associate Degree of Nursing program. She was promoted to dean in 2002, while continuing to serve as the nursing program director.  
Wagner has served on many statewide nursing committees, including the Texas Nurses Association Education Committee and the Texas Higher Education Coordinating Board Advisor Committee on Registered Nursing Education. She served as president of the Texas Association of Deans and Directors of Professional Nursing.  
Wagner retired from Victoria College in January. She works part time as a nursing program site surveyor for the Texas Board of Nursing.  
For more information about UHV nursing programs, visit www.uhv.edu/nursing or call toll free 877-970-4848, ext. 4370.
The University of Houston-Victoria, located in the heart of the Coastal Bend region since 1973 in Victoria, Texas, offers courses leading to more than 80 academic programs in the schools of Arts & Sciences; Business Administration; and Education, Health Professions & Human Development. UHV provides face-to-face classes at its Victoria campus, as well as an instructional site in Katy, Texas, and online classes that students can take from anywhere. UHV supports the American Association of State Colleges and Universities Opportunities for All initiative to increase awareness about state colleges and universities and the important role they have in providing a high-quality and accessible education to an increasingly diverse student population, as well as contributing to regional and state economic development.