Close
Outstanding students call UHV professors mentors
Desiree Bradley of Sugar Land and Erin Gabrysch of Edna agree that the lessons they learned from their University of Houston-Victoria professors will last well into their future careers.  
"Some people think a small university means that the education also is small," Bradley said. "But the professors at UHV are helpful and supportive of students. They give us the opportunity to be critical thinkers and professionals in training through different class assignments and expectations."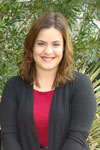 Desiree Bradley
Bradley is the outstanding graduate student for the School of Arts & Sciences, and Gabrysch is the school's outstanding undergraduate. Both will be honored during the university's spring commencement.  
UHV will hold two graduation ceremonies Saturday at Faith Family Church, 2002 E. Mockingbird Lane. The 9 a.m. ceremony will be for graduates of the schools of Arts & Sciences and Education & Human Development. The 1 p.m. ceremony will be for graduates of the schools of Business Administration and Nursing.  
Each semester, professors from the four UHV schools select at least one outstanding student from both their graduate and undergraduate programs to be honored during commencement.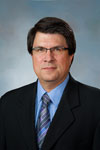 Jeffrey Di Leo
"Even though Desiree and Erin are graduating with different degree interests, both show an interest in helping others in their future careers," said Jeffrey Di Leo, dean of the School of Arts & Sciences. "They have dedicated themselves to their education and future, so that is why they were chosen as this semester's outstanding students."  
Bradley is graduating with a master's in forensic psychology. She discovered an interest in psychology when she took a class in high school. That led to associate and bachelor's degrees in psychology before coming to UHV for her master's.  
"I enjoy talking with people and helping them cope with difficult situations they may face in their lives," Bradley said.  
She plans on becoming a counselor after passing the national certification exam and finishing her supervised hours. Bradley said her favorite part about her time at UHV was getting hands-on experience by interning for Karan Redus, a psychologist and owner of Crossroads Counseling & Assessment in Victoria.  
"I really enjoyed working with children," Bradley said. "I assisted in doing intelligence and personality tests as well as co-facilitating juvenile anger management groups during my internship."  
She also got to experience the real world of counseling by making an interview video in associate professor Catherine Perz's "Techniques of Psychotherapy" class.  
"I worked with another student, and we took turns acting as a counselor or the client," she said. "The videos let us use the skills we learned as counselors. It was a great way to learn outside of lectures and textbooks. Plus, Dr. Perz's feedback will be helpful for future interviews I conduct."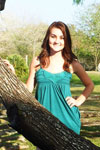 Erin Gabrysch
Gabrysch agreed with Bradley that the feedback from her UHV professors steered her in her future career. She credits Ricardo Teixeira, director of the UHV math program and lecturer, for her interest in continuing her education.  
"Outside of math, he taught me the importance of pursuing my goals," Gabrysch said. "Dr. Teixeira encouraged me to continue my education so I can eventually teach math at a college."  
Gabrysch is graduating with a bachelor's in mathematics and plans to get her master's degree in mathematics and computer science at UHV starting in the fall. What she likes most about math is its consistency.  
"I can travel the world, and math will be the same wherever I go," she said.  
Speaking of traveling, she'll be spending some time in the Bahamas this summer celebrating her graduation with family. Higher education is important in her family, and she wants to set a good example as the eldest sibling.  
Gabrysch originally was drawn to UHV in 2009 as a graduating high school senior. At the time, she attended UH because UHV didn't offer underclassmen courses. She transferred to UHV as a junior.  
"I like that UHV is close to home," she said. "The classes are smaller, so I've had the opportunity to get to know my professors better. I am comfortable asking questions, and I get more one-on-one interaction with them. I can't wait to get started on my next degree from UHV."
The University of Houston-Victoria, located in the heart of the Coastal Bend region since 1973 in Victoria, Texas, offers courses leading to more than 80 academic programs in the schools of Arts & Sciences; Business Administration; and Education, Health Professions & Human Development. UHV provides face-to-face classes at its Victoria campus, as well as an instructional site in Katy, Texas, and online classes that students can take from anywhere. UHV supports the American Association of State Colleges and Universities Opportunities for All initiative to increase awareness about state colleges and universities and the important role they have in providing a high-quality and accessible education to an increasingly diverse student population, as well as contributing to regional and state economic development.