Close
Sixteen UHV business students capture awards at spring MBA conference
| | |
| --- | --- |
| | |
| Oluwaseun Aduwo, left, Morolake Imoisili and Manan Sharma won first place in the Strategic Simulation Competition during the University of Houston-Victoria Spring 2013 Master of Business Administration Conference Saturday at UH Sugar Land. | Nasir Khan, left, Narmeen Walji, Aneeqa Zafar and Victor Aluko display the plaques they received for winning first place in the Strategic Simulation Competition. |
| | |
| Kelechi Ehieze, left, Kerem Kutuk, David Adewumi and Phillip Rainey pose for a team photo after earning first place in the Strategic Stimulation Competition. Teammate Kasim Baglam is not pictured. | Judges awarded Mikhail Pokutnyy, left, Anthony Anderson, J. Greg Guzman and Sarah Jackson first place in the Strategic Case Study Competition. |
SUGAR LAND – A total of 16 University of Houston-Victoria students brought home awards Saturday from the University of Houston-Victoria Spring Master of Business Administration Conference.
The number of winners was larger than usual because of a three-way tie for first in the Strategic Simulation Competition. There also was a tie in the same category at the Fall MBA Conference.
"It's a testament to the high-level of competition that our judges have awarded a tie for first place twice in the past five months," said Farhang Niroomand, dean of the UHV School of Business Administration. "The students clearly take a lot of pride in researching, analyzing and presenting these cases. They are doing a remarkable job."
Since 2003, the conference has been the culmination of the UHV School of Business Administration's MBA program. Held at UH Sugar Land, where UHV offers many of the programs, the event also featured a keynote address by Richard Tyler, a highly acclaimed speaker, trainer, consultant and author.
There were 87 students from the MBA capstone course "Seminar in Strategic Management" who competed in the conference. The students were divided into 21 teams vying for first place in two competitions: strategic simulation and strategic case studies.
Winning team members received certificates, and their names will appear on a plaque in the School of Business Administration main office in Victoria. They also will be invited to participate as panelists at future case competitions.
The winning teams were:
• Oluwaseun Aduwo of Victoria, Morolake Imoisili of Houston and Manan Sharma of Katy
• Victor Aluko of Houston; Nasir Khan of Dayton; and Narmeen Walji and Aneeqa Zafar, both of Sugar Land
• David Adewumi of Cypress; Kasim Baglam and Kerem Kutuk, both of Houston; Kelechi Ehieze of Richmond; and Phillip Rainey of Cumming, Ga.
• Anthony Anderson and Mikhail Pokutnyy, both of Houston; J. Greg Guzman of Amarillo; and Sarah Jackson of Humble
Walji said she and her teammates were extremely excited about the competition.
"From the day we formed our group, we had collectively decided that our group would come out on top," Walji said. "We couldn't be happier with the result."
Walji said the team met for three to five hours every Saturday. In the weeks leading up to the competition, team members met almost every evening.
"We actually put our jobs and lives on hold for this," she said. "It was really important to us because we had a really good professor – Jifu Wang. He made the material so interesting that he sparked a desire in us to win. He made us want to be part of this. The credit goes to him."
Walji said the preparation paid off Saturday when they presented the case to the judges.
"We all knew our material, and we all went in there with the mentality of addressing our judges," Walji said. "We stood by each other. Everything went smoothly."
Imoisili said her team's preparation was mostly by Skype. As an eighth-grade math teacher, Imoisili didn't have a corporate background like her teammates. But the experience of working together was educational in its own right.
"I tried to provide the voice of reason, while my teammates brought their years of experience," she said. "We used a lot of theories learned in UHV courses to back up why we were making these decisions."
Imoisili also credited Wang, a UHV associate professor of management who taught the capstone course, as well as Yixi Ning, a UHV associate professor of finance, for helping her succeed.
"These professors deserve a lot of credit because they put in a lot of work," Imoisili said. "They helped us, not only in the classroom but also assisted with how to find jobs and advance our careers. They might not realize it, but they go the extra mile for their students."
After the competition, the students heard a luncheon speech from The Willis Group Distinguished Speaker.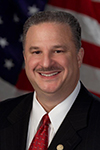 Richard Tyler
The owner of Richard Tyler International, a Houston training and consulting firm, Tyler has earned a worldwide reputation for his powerful educational methods and motivational techniques, as well as his experience in all levels of business, corporate education and success training.
Tyler shares his success and excellence philosophies through keynote presentations, syndicated writing, radio, television, seminars, books, CDs and web-based programs.
Imoisili said Tyler's speech was what she needed to hear.
"He got me thinking about pushing myself after graduation," Imoisili said. "While getting an MBA is an achievement, Mr. Tyler warned us to continue to push forward. Otherwise, we would revert back to our old ways and not achieve what we want."
The luncheon was sponsored by The Willis Group, Bloomberg BusinessWeek, Regency Nursing and Rehabilitation Centers, and Mark Zafereo of Wells Fargo Advisors.
The University of Houston-Victoria, located in the heart of the Coastal Bend region since 1973 in Victoria, Texas, offers courses leading to more than 80 academic programs in the schools of Arts & Sciences; Business Administration; and Education, Health Professions & Human Development. UHV provides face-to-face classes at its Victoria campus, as well as an instructional site in Katy, Texas, and online classes that students can take from anywhere. UHV supports the American Association of State Colleges and Universities Opportunities for All initiative to increase awareness about state colleges and universities and the important role they have in providing a high-quality and accessible education to an increasingly diverse student population, as well as contributing to regional and state economic development.