Close
Business student fastest to complete UHV master's program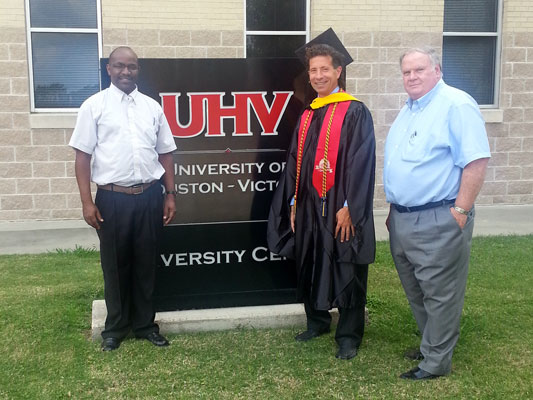 Stephen Thomas, center, celebrates his graduation from the University of Houston-Victoria with his business professors, John Kagochi, left, and David Summers. Thomas was the fastest student ever in the business school to complete the Master of Science in Economic Development and Entrepreneurship.
When Stephen Thomas graduated earlier in May with a Master of Science in Economic Development and Entrepreneurship from the University of Houston-Victoria, he unknowingly completed the program the quickest in the school's history.  
The Waxahachie resident learned of his accomplishment while visiting with his business professors at graduation in Victoria. Thomas began the UHV School of Business Administration program in January 2012 and completed it in just 16 months. In his time at UHV, he was inducted into Phi Kappa Phi, a national honor society for academic excellence, and Beta Gamma Sigma, an international honor society for business students.  
David Summers, an associate professor of entrepreneurship, and John Kagochi, an assistant professor and the Partnership Professor of Economic Development, taught most of the online business classes Thomas took.  
"It was a cool experience to come to graduation and visit with the professors who helped me throughout my time at UHV," Thomas said. "The way they structured and paced their classes was very beneficial to the learning process. Everything related back to the degree. I appreciate their help and enjoyed getting to meet them for the first time at graduation."  
Along with helpful financial aid scholarships, Thomas said he was motivated to finish quickly so he could teach at a community college as soon as possible. He plans to apply for fall teaching positions at community colleges.  
Thomas already teaches "Principles of Business Marketing and Finance" to middle school students at W E Greiner Exploratory Arts Academy in Dallas. He said he's already used his UHV education in his job as a business teacher.  
"This past semester, I was taking a business planning class, and my students also were learning how to write a business plan," Thomas said. "The class was relevant for me as I helped my students. One of my student's business plans made it to the top four in the Dallas region and is competing for a spot to attend a national competition in October. It's an exciting experience."  
Before becoming a teacher, Thomas owned an outdoor marketing and advertising business, and an exercise equipment company. His passion for business drove him to get his master's degree.  
"I love business ownership and want to impart the knowledge I have from my education and experience to my students," he said.  
Thomas said he'd like to own another business one day. He would use the knowledge he's learned at UHV to grow his businesses differently.  
"I've been an entrepreneur but never took business classes before this degree," he said. "I learned how hard it is to be an entrepreneur. I didn't think about the economic development part before and never thought about how my business could affect the local economy."  
Thomas also has a master's degree in education from Missouri State University and a bachelor's degree from Central Bible College, both in Springfield, Mo. He said UHV's online degree program was different from his previous degrees.  
"The flexibility in my schedule was a major advantage to taking online classes," he said. "But I think it was more challenging than my previous education. I learned more through online classes because I was forced to pay attention to what I was doing."  
When asked how he was able to accomplish a full course load, a full-time job and seeing his family, Thomas said his personality traits came into play. He spent time preparing for classes by doing most of his reading ahead of time and said discipline from the beginning was key to his success.  
"My goal was to become a business teacher, so once I put my mind to it, I just kept going," he said. "I am good at time management and give 150 percent to whatever I do. For me, it's a mental game. It was easier for me to know that I would be done sooner than to drag it out."  
Thomas' accomplishment is commendable, but it is important to note students should limit themselves to a course load they can manage, said Farhang Niroomand, dean of the UHV School of Business Administration.  
"The business school is impressed with Mr. Thomas' quick work through a difficult degree program," he said. "His story is unique and a shining example for other business students. He has the drive and dedication that is needed to be successful in the business world."  
The UHV master's in economic development and entrepreneurship was started in 2006 and was the first program in the U.S. to combine the two subjects into a single course of study. The primary goal of the degree program is to teach the knowledge and skills necessary for success in an economic arena that is increasingly integrated and globally competitive. Classes are conducted online, allowing for access to students from across Texas and the nation.  
The University of Houston-Victoria, located in the heart of the Coastal Bend region since 1973 in Victoria, Texas, offers courses leading to more than 80 academic programs in the schools of Arts & Sciences; Business Administration; and Education, Health Professions & Human Development. UHV provides face-to-face classes at its Victoria campus, as well as an instructional site in Katy, Texas, and online classes that students can take from anywhere. UHV supports the American Association of State Colleges and Universities Opportunities for All initiative to increase awareness about state colleges and universities and the important role they have in providing a high-quality and accessible education to an increasingly diverse student population, as well as contributing to regional and state economic development.