Close
UHV, Stroman Middle School formalize Adopt-A-School partnership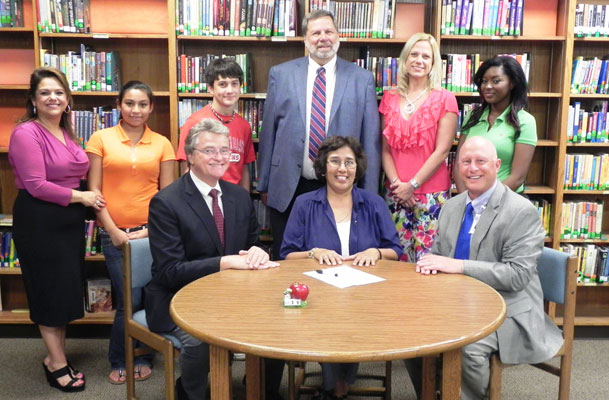 University of Houston-Victoria, Victoria Independent School District leaders and Stroman Middle School eighth-graders gathered Wednesday for an Adopt-A-School partnership ceremony in the Stroman library. Pictured in the front row are UHV President Phil Castille, left; Estella De Los Santos, UHV professor of mathematics education and member of the VISD Board of Trustees; and VISD Superintendent Robert Jaklich. Pictured in the back row are Stroman Principal Lisa Cortez, left; Stroman students Katlyn Salina and Zachary Wallace; Fred Litton, dean of the UHV School of Education & Human Development; Dawn Maroney, incoming Stroman principal; and Stroman student Tiffany Martin.
The University of Houston-Victoria has adopted Stroman Middle School in an effort to help those students achieve academic goals and prepare UHV education majors for the teaching profession.  
As part of the Victoria Independent School District's Adopt-A-School program, faculty and students from the UHV School of Education & Human Development have tutored Stroman students and worked with Stroman teachers on methods to bolster academic performance during the 2012-2013 school year.
"We all have the same goal of school improvement," said Estella De Los Santos, a UHV professor of mathematics education and a member of the VISD Board of Trustees. "By working together, we are sharing knowledge and resources, as well as providing an important learning experience for the future teachers UHV is preparing."  
The Adopt-a-School program allows area residents in businesses, organizations and institutes of higher learning to volunteer time or donate equipment or supplies to a particular school. While UHV faculty members and students have volunteered at Stroman in the past, the idea of making the relationship formal came out of a meeting between Fred Litton, dean of the UHV School of Education & Human Development, and VISD Superintendent Robert Jaklich.  
"Both the superintendent and I were new last year, so we met to get to know each other and brainstorm ways we could mutually benefit VISD and UHV students," Litton said. "While the Adopt-A-School concept has been around a long time, we both felt it would do a considerable amount of good in this particular situation."  
UHV President Phil Castille welcomed the increased interaction between the university and VISD.  
"This agreement creates another opportunity for UHV to contribute to the well-being of the Victoria community and partner with our dedicated colleagues at VISD," he said. "In return, our students will be gaining hands-on training, and our faculty members will get real-time feedback from the classrooms."  
Jaklich said the district is excited to be partnering with UHV in creating greater educational opportunities for the Stroman students and staff.  
"The Victoria community is extremely fortunate to have such committed and dedicated higher education leaders that truly serve as 'Champions for our Children,'" Jaklich said. "Everyone in Victoria benefits when our students are presented with a future of opportunities and endless possibilities. On behalf of our Board of Trustees and the entire VISD, we thank UHV for being such a valuable partner and making educational excellence for Stroman Middle School a reality."  
To launch the Adopt-A-School partnership, Litton appointed a task force of five UHV education faculty members to talk with Stroman Principal Lisa Cortez and other administrators about program objectives. De Los Santos served as the task force chair.  
One goal was to help Stroman students achieve improvement on the math, science, social studies and language arts portions of the State of Texas Assessments of Academic Readiness exams. De Los Santos; Carol Klages, a UHV associate professor of education; Teresa LeSage Clements, a UHV assistant professor of curriculum and instruction; and Sherry Pelky, UHV director of field experience, each spent one day a week at Stroman this spring mentoring students.  
After the teacher gave out math instructions, De Los Santos walked around and assisted students with their work. When a student needed individual attention, she took the student to the library and worked one-on-one with them.  
De Los Santos said the mentoring helps her and her colleagues stay current in their field.  
"Since we are teaching current methods and content, it is helpful to go out to the schools and see how the methods are being implemented," she said.  
UHV faculty members also are working with Stroman teachers about how to alleviate disciplinary problems in the classroom. UHV's three special education faculty members, Andria Young, Rachel Martinez and Paul Carlson, observed classes at Stroman to analyze behavior problems.  
"This is another example of a mutually beneficial situation," De Los Santos said. "The three professors are coming up with solutions to help Stroman teachers. By doing so, it provides our professors with practical experience that they can turn around and use in research and teaching."  
Pelky, two Stroman teachers and an assistant principal attended a conference about consistency management and cooperative discipline earlier this year.  
"It got immediate results," De Los Santos said. "The teachers started to implement the strategies in their classrooms. The ultimate goal is to improve instruction. Through improved discipline, we can improve instruction."  
Pelky also coordinated the UHV students who assisted once a week in middle school writing, math, science, social studies and English classes. Doing so provided an avenue for UHV students to reach the required 45 contact hours before they can become a student teacher.  
A three-week UHV education course taught at Stroman finished Thursday, the last day of the VISD school year. After daily lessons from Klages, seven UHV students studying to become teachers assisted middle school students with their class projects.  
Cortez will be moving to a different role next school year as a professional director in the VISD Human Resources Department. She will be replaced by Dawn Maroney, Patti Welder Middle School assistant principal. Both Cortez and Maroney are UHV alumni.  
"We plan to talk with Principal Maroney about continuing these activities and expanding our goals," De Los Santos said. "The cooperation between UHV and the school district is a win-win."
The University of Houston-Victoria, located in the heart of the Coastal Bend region since 1973 in Victoria, Texas, offers courses leading to more than 80 academic programs in the schools of Arts & Sciences; Business Administration; and Education, Health Professions & Human Development. UHV provides face-to-face classes at its Victoria campus, as well as an instructional site in Katy, Texas, and online classes that students can take from anywhere. UHV supports the American Association of State Colleges and Universities Opportunities for All initiative to increase awareness about state colleges and universities and the important role they have in providing a high-quality and accessible education to an increasingly diverse student population, as well as contributing to regional and state economic development.