Close
Nursing is in faculty member's blood
Whether it was a friend in need or a sick loved one, Lisette Barton made it a point to be there. Caring for people is in her blood.  
As such, only one profession would do.  
"When I was a little girl, I wanted to be a nurse," she said. "I always wanted to be a nurse, and I never strayed from that path. I've loved it all along."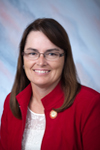 Lisette Barton
Today, as an assistant professor of nursing in the University of Houston-Victoria School of Nursing, she's not only doing something she loves, but passing that passion to future generations.  
Barton earned her bachelor's degree in nursing from Baylor University before moving on to Houston Baptist University for her master's.  
It was then that she got her first taste of the flip side of education.  
"I was fixing to graduate when the dean approached me and asked if I wanted to teach," she said. "I'd never considered it before, but I started teaching and loved it. That was in 2003, and I've been doing it ever since."  
The educator, who spent 25 years as a pediatric nurse before her transition into family nursing, went on to earn her doctorate from Texas Woman's University. She joined UHV in 2009.  
A lot has changed during her years with the school, but she said that change is encouraging. The nursing program recently underwent expansion, introducing courses in The Woodlands. A Family Nurse Practitioner master's program will start in the fall.  
"I'm very fortunate to be on the forefront of those changes," she said. "It's a very exciting time."  
The progress doesn't end there, however. Barton herself has made impressive strides.  
She received a Promise of Nursing research grant, a $60,000 grant from the National Student Nursing Association. Those funds went toward research into accelerated bachelor's programs in nursing.  
"We are trying to figure out the best selection process for those programs," she said, explaining that retention is an issue. "I want universities to be able to pick people who can handle that type of learning environment and really succeed."  
Barton plans to complete the study in July.  
Work and research might be important, but they aren't the only things that fill her time.  
Outside of the classroom, Barton enjoys fishing and traveling, and recently has gotten involved in international studies. She takes part in her first study abroad program – a trip to London – this summer.  
Barton also has a crafty side, sewing and quilting when she can.   "Sewing is one of those things that is a creative outlet that has nothing to do with nursing," she said with a chuckle. "Sometimes you get bogged down doing just one thing. It's good to have something to get your mind off things, and sewing does that."  
Looking ahead, Barton plans make a return to family nursing. She also plans to remain at UHV, educating students in a field she loves.  
Barton said she's proud of the work she and her colleagues have accomplished, and looks forward to the years to come.  
 "I'm blessed to be part of such a great program," she said. "I love what I do."  
The Faculty Feature is an online feature highlighting faculty members from each of the University of Houston-Victoria's four schools. To nominate a faculty member, contact Paula Cobler, UHV director of marketing and communications, or call 361-570-4350.
The University of Houston-Victoria, located in the heart of the Coastal Bend region since 1973 in Victoria, Texas, offers courses leading to more than 80 academic programs in the schools of Arts & Sciences; Business Administration; and Education, Health Professions & Human Development. UHV provides face-to-face classes at its Victoria campus, as well as an instructional site in Katy, Texas, and online classes that students can take from anywhere. UHV supports the American Association of State Colleges and Universities Opportunities for All initiative to increase awareness about state colleges and universities and the important role they have in providing a high-quality and accessible education to an increasingly diverse student population, as well as contributing to regional and state economic development.