Close
UHV biology student organization joins national honor society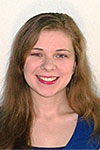 Kelsey Junek
Members of University of Houston-Victoria's biology student organization now will have more research and networking opportunities thanks to the group's inclusion in a national honor society.
Beta Beta Beta Honor Society for Biological Sciences, a national society for students dedicated to improving the understanding and appreciation of biological sciences, has granted UHV a chapter and selected the name Nu Gamma Nu for the group. It previously was called Phi Zeta.
The chapter invite was welcoming news to Kelsey Junek, a senior biology major from Rosenberg who will serve as the first Nu Gamma Nu president.
"It looks really good on our transcripts to be part of a national organization," Junek said. "It's also brings more research-oriented opportunities. If our members perform independent research, they can submit a paper about their findings to TriBeta's biology journal. The authors of the top papers are invited to the national conference."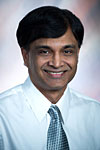 Siva Somasundaram
BIOS is a peer-reviewed, undergraduate scientific journal run by TriBeta, the name Beta Beta Beta often is called. The ability to be published was one of the reasons UHV applied to join TriBeta, said Siva Somasundaram, UHV director of undergraduate biology studies and the faculty adviser to Nu Gamma Nu.
"By joining this national organization, it enables students to increase their leadership skills, publish their research in the BIOS journal and assist in placement for graduate studies through TriBeta's national network," he said. "This is a positive step for students to advance their career in medical sciences."
Phi Zeta began in spring 2011. Organization activities are designed to stimulate interest, scholarly attainment and investigation in the biological sciences, as well as to promote the dissemination of information and new interpretations among life science students.
Phi Zeta members have kept busy with a variety of events and service projects. They began the 2012-2013 school year with a bake sale for the Alzheimer's Walks in Victoria and Sugar Land. The group also had a zombie lecture, blood drive and collected supplies for animal organizations. In the spring, they sold roses for Valentine's Day and held a bowl-a-thon to raise money for the National Kidney Association.
Junek said members are discussing what events to hold this coming school year, though bake sales and other fundraising activities are likely.
Jeffrey Di Leo, dean of the UHV School of Arts & Sciences, said he's proud of the group's leadership and commitment to serve its communities.
"Phi Zeta had a great track record for raising awareness and funding for charitable organizations, while bringing together Arts & Sciences students for lively educational and social endeavors," he said. "That may be enough for some groups. But our leaders decided to enhance the organization further by taking steps to become part of a national honor society."
Since its founding in 1922, TriBeta has accepted more than 200,000 people into lifetime membership. There are more than 550 chapters nationwide.
A national representative from TriBeta visited UHV in November. The organization's executive committee met to consider applicants and recommended adding UHV. The decision was ratified by a vote of area chapters.
"Following the application and the visit, we were expecting to receive good news about an invite," Junek said. "When we got an email making it official, Dr. Somasundaram was really excited because this will help biology majors. It is especially beneficial for those students wanting to go to medical school, dental school or physician assistant school because these institutions find it impressive to be being part of an honor society like this."
Last school year, the organization had about 25 members. Nu Gamma Nu actively is recruiting new members for the fall. The organization is open to biology majors in good academic standing with at least a 2.75 overall grade-point average and a 3.0 biology GPA. Students must have completed at least one upper-level biology class before being granted full membership.
"The students we are recruiting seem excited about joining," Junek said. "We are hopeful that being part of a national organization will encourage more students to become members."
The University of Houston-Victoria, located in the heart of the Coastal Bend region since 1973 in Victoria, Texas, offers courses leading to more than 80 academic programs in the schools of Arts & Sciences; Business Administration; and Education, Health Professions & Human Development. UHV provides face-to-face classes at its Victoria campus, as well as an instructional site in Katy, Texas, and online classes that students can take from anywhere. UHV supports the American Association of State Colleges and Universities Opportunities for All initiative to increase awareness about state colleges and universities and the important role they have in providing a high-quality and accessible education to an increasingly diverse student population, as well as contributing to regional and state economic development.