Close
New UHV Student Government Association president makes history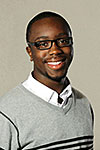 Moses Olukoya
The University of Houston-Victoria student body recently elected its first Student Government Association president to start at the university as a freshman.
Students voted in Moses Olukoya, a senior biology major from Sugar Land, as the 2013-2014 student body president. Olukoya will graduate in May 2014 and plans to attend dental school.
Olukoya started as a freshman at UHV in fall 2010, when the university first admitted freshmen and sophomores. Previous Student Government Association presidents had transferred to the university from community colleges or other universities.
The association serves as the liaison between students and the university's administration. It also enhances student life by sponsoring and promoting participation in student activities. As president, Olukoya will serve as the student representative on the UHV President's Cabinet.
Olukoya plans to use his experience as a way to improve campus life at UHV. He said his involvement at UHV has taught him the importance of networking and has improved his leadership skills.
"I have seen the campus change so much since I was part of the first freshman class," he said. "I stayed at UHV for four years because I felt like I could make an impact on campus. I've visited with student government officers at other universities and brainstormed ideas that we can implement at UHV. There is so much potential for the future."
Olukoya has been involved with student government since his first year on campus. He served as vice president during the 2012-2013 school year. He won the 2011 UHV Spirit of the Jaguar award and the 2012 UHV Student Leadership Award. He also is a senior resident assistant responsible for providing programs for students living in the residence halls.
"I enjoy working with freshmen and helping them adapt to a new environment," he said. "It gives me a chance to get to know them and see what activities they want on campus, so it is helpful with my student government activities as well."
Olukoya already has championed two causes that will start during the new school year to help improve student life at UHV. He has organized a new volunteer service program called All Paws In.
"It's important for students to keep themselves occupied and involved with the community while they are in college," Olukoya said. "This program will be great for future internship and job opportunities."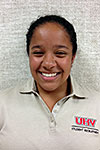 Ashleigh Kellis-Carr
He also has worked on behalf of the association to get a new bicycle program started so students can borrow bicycles to ride from campus buildings to the residence halls. This will be a healthy option for students needing to travel around campus, he said.
The organization picked Ashleigh Kellis-Carr, the UHV senior recruitment coordinator for the Greater Houston area, as its staff adviser. As a UHV alumna, she was active with the organization when she was a student. She also was the student who suggested Olukoya get involved with the student government his freshman year.
Kellis-Carr said her location in Houston will be a good opportunity to connect students in Victoria with those at UH Sugar Land and the UH System at Cinco Ranch, where UHV offers many of the programs.
"I plan to help the Student Government Association branch out more to students outside of Victoria," she said. "Hosting community service events in Greater Houston will give students from all UHV teaching sites opportunities to work together face to face. This will only make the association stronger."
Kellis-Carr said that it will be a productive year with Olukoya leading because he is so organized.
"I've worked with Moses in the past, and I know he'll be a great leader for the association," she said.
Other students serving on the 2013-2014 Student Government Association are:
Eli Olvera, vice president
Laura Caldwell, secretary
Benito Salazar, treasurer
Alex Lima, speaker of the senate
Mayra Franco, director of external affairs
Isabel Aguilera, director of public relations
Abigail Gonzalez, sophomore representative
Chelsea Randle, sophomore representative
Arielle McGillis, junior representative
Victor Zertuche, senior representative
Jessica Acuna, senator at large, Victoria
Brea Matchett, senator at large, Victoria
Jose Muniz, senator at large, Victoria
Robert Proctor, senator at large, Victoria
Bola Adebayo, senator at large, Victoria
Niakia Winfrey, senator at large, Sugar Land
An at-large member representing the UH System at Cinco Ranch and nonvoting freshman members will be added to the Student Government Association at a later date.
The University of Houston-Victoria, located in the heart of the Coastal Bend region since 1973 in Victoria, Texas, offers courses leading to more than 80 academic programs in the schools of Arts & Sciences; Business Administration; and Education, Health Professions & Human Development. UHV provides face-to-face classes at its Victoria campus, as well as an instructional site in Katy, Texas, and online classes that students can take from anywhere. UHV supports the American Association of State Colleges and Universities Opportunities for All initiative to increase awareness about state colleges and universities and the important role they have in providing a high-quality and accessible education to an increasingly diverse student population, as well as contributing to regional and state economic development.