Close
Seasoned development professional to lead UHV fundraising efforts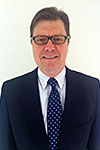 Greg Rutzen
With more than 15 years of experience in fundraising campaigns, annual giving and development communications, Greg Rutzen knows firsthand the importance of donor relationships.
Based on his development experience and knowledge, Rutzen recently was hired as associate vice president for University Advancement and chief advancement officer at the University of Houston-Victoria after a national search.
"One of the goals I will have at UHV is to present outstanding stewardship to current benefactors while at the same time work to inspire new contributors to make their first gift," he said.
Rutzen will leave his post as associate director of development communications at the University of Texas Medical Branch in Galveston to start Aug. 15 at UHV.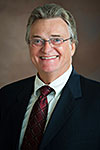 Phil Castille
UHV President Phil Castille said Rutzen will play a key role in shaping future university plans and projects.
"Greg is student-centered and civic-oriented," Castille said. "He will make sure that UHV is assisting our donors and potential donors in achieving the goals they want to reach for our community through UHV."
As UHV's senior development officer, Rutzen's job will be to provide strategic and operation leadership for planned giving, corporate and foundation relations, annual giving, alumni relations and special events.
"I'm looking forward to strengthening the existing fundraising program to ensure that University Advancement plays an instrumental role in bringing the university forward," Rutzen said. "It's a big opportunity for me. It's an advancement for me professionally and a chance to build a program."
An Indiana native, Rutzen earned a bachelor's degree in public affairs from Indiana University in Bloomington. He went on to earn a Doctor of Jurisprudence from the Indiana University School of Law.
Rutzen's academic work includes jobs as director of annual giving and alumni relations at Valparaiso University in Valparaiso, Ind., and development director at Central Methodist University in Fayette, Mo. From 2009 to 2011, he was a communication specialist in the Office of University Advancement at the University of Texas Health Science Center in Houston.
In his current job, Rutzen is involved with UTMB's $450 million comprehensive campaign featuring a new hospital as the centerpiece. He has written proposals to individuals, corporations and foundations for major gifts of $50,000 and more.
"Greg comes to us with outstanding experience within the University of Texas System at elite institutions such as UTMB at Galveston and the UT Health Science Center in Houston," Castille said. "He has the background and skills to lead UHV's Office of University Advancement to new levels of success."
Rutzen said he's been a frequent visitor to Victoria during the past five years.
"I've come to like the community very much," Rutzen said. "I like the role UHV plays in the community as a leader in higher education."
The last person to serve as associate vice president for university advancement at UHV was Richard Phillips. He was in that role from 2005 to 2007 before becoming associate vice chancellor of UH Sugar Land and the UH System at Cinco Ranch.
In his new job, Rutzen will reorganize and manage UHV's Office of University Advancement, cultivate major donor prospects, develop advancement targets in support of institutional objectives, manage financial reports and collaborate in strengthening alumni-building activities. He also will work with UHV's financial aid staff to maximize scholarship awards.
Rutzen said one of his first priorities will be to fill the open position in annual giving and alumni relations in the University Advancement Office.
"Once we get our staff to 100 percent, we will be fully prepared to help move UHV forward into its next 40 years and beyond," he said.
The University of Houston-Victoria, located in the heart of the Coastal Bend region since 1973 in Victoria, Texas, offers courses leading to more than 80 academic programs in the schools of Arts & Sciences; Business Administration; and Education, Health Professions & Human Development. UHV provides face-to-face classes at its Victoria campus, as well as an instructional site in Katy, Texas, and online classes that students can take from anywhere. UHV supports the American Association of State Colleges and Universities Opportunities for All initiative to increase awareness about state colleges and universities and the important role they have in providing a high-quality and accessible education to an increasingly diverse student population, as well as contributing to regional and state economic development.