Close
UHV dean addresses special education issues at Israel conference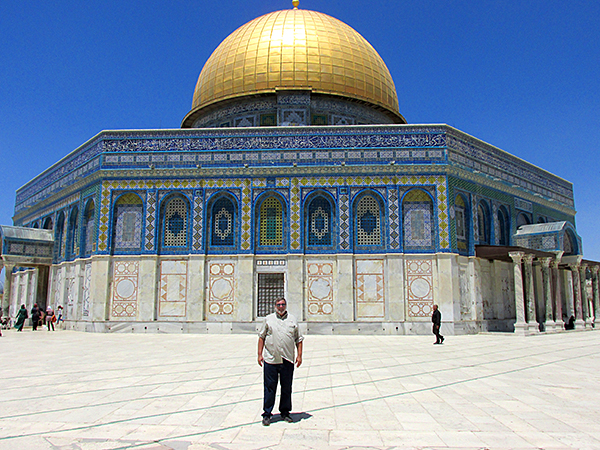 Fred Litton, dean of the University of Houston-Victoria School of Education & Human Development, stands in front of the Dome of the Rock, a shrine located in the Old City of Jerusalem. Litton was in Jerusalem attending an international teacher education conference.
An international teacher education conference in Israel provided the dean of the University of Houston-Victoria School of Education & Human Development the opportunity to learn how teacher educators worldwide prepare student teachers to include children with special needs in classroom activities.
"Sometimes we think the U.S. is light years ahead of other countries, and in some ways, we probably are in terms of education for children with special needs," Fred Litton said. "But educators in other countries are seeing some of the same classroom problems that we are experiencing in the U.S. It was enlightening to see how some of the struggles are universal."
Litton attended the Sixth International Conference on Teacher Education July 2 to 4 in Jerusalem and Tel Aviv. This year's conference theme was "Changing Reality through Education."
On July 3, Litton joined professors from Austria and Israel in presentations about teacher preparations to include students with special needs in the education system.
"From our presentation and my informal conversations with educators at the conference, I found out there are a lot of struggles with how to include students with special needs," he said. "There can be resistance. Sometimes they are not warmly embraced. Sometimes teachers don't know how to deal with it. My focus was on attitudes. We have laws about inclusion, but it doesn't work if people's attitudes are negative and unproductive."
Litton and Joseph Ben-Ur, a marketing professor in the UHV School of Business Administration, wrote a paper regarding attitudes toward students with special needs. Ben-Ur, who earned his bachelor's and master's degrees from Hebrew University of Jerusalem, also was invited to present at the conference but couldn't because of a previous commitment.
In their paper, "Attitudes Toward Individuals with an Intellectual Disability: A Major Barrier Toward Successful Inclusion," Litton and Ben-Ur explained that a positive attitude by teachers can encourage the development of helpful relationships between students with disabilities and those without disabilities. They prepared a study to determine how to change the attitudes of teachers from negative to positive.
They tried several strategies and found that the most effective were lessons about famous people with disabilities, books about people with disabilities and education about accepting people who are different.
The conference was organized by The David Yellin Academic College of Education, a teacher preparation university in Jerusalem. Conference sessions were held at the university and a research institute in Tel Aviv.
"It was nice to have another chance to explore both cities," said Litton, who had visited Israel before. "The history and archeology are tremendous. Israel has a bustling economy, and tourism is central to that. There are a lot of new buildings and infrastructure."
Litton said his favorite part of the conference was interacting with professionals in the field from other countries. Between conference sessions, Litton exchanged ideas with fellow attendees.
"A couple of us agreed to exchange research and stay in communication," he said. "I also made good contacts with educators from other places that might lead to some professional development opportunities for our teachers at UHV."
The University of Houston-Victoria, located in the heart of the Coastal Bend region since 1973 in Victoria, Texas, offers courses leading to more than 80 academic programs in the schools of Arts & Sciences; Business Administration; and Education, Health Professions & Human Development. UHV provides face-to-face classes at its Victoria campus, as well as an instructional site in Katy, Texas, and online classes that students can take from anywhere. UHV supports the American Association of State Colleges and Universities Opportunities for All initiative to increase awareness about state colleges and universities and the important role they have in providing a high-quality and accessible education to an increasingly diverse student population, as well as contributing to regional and state economic development.