Close
UHV Dining launches nutrition and wellness program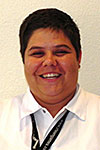 Christina Barrera
Just in time for the new school year on Monday, University of Houston-Victoria Jaguar Hall Dining and ARAMARK will launch a student healthy lifestyle program.
ARAMARK Healthy for Life is a comprehensive and integrated approach to health and wellness that features healthy food choices, nutrition education and wellness programs that work together to support healthier lifestyles. Jaguar Hall Dining is managed by ARAMARK.
"Students are thinking differently about their menu choices and are actively seeking information about how nutrition impacts their health," said Geoff Herbert, resident district manager for UHV Jaguar Hall Dining/ARAMARK. "Healthy for Life helps students gain a better understanding of food and empowers them to make the choices that will ultimately help them live healthier lives."
Healthy for Life includes menus featuring lower calorie, lower fat, whole grain and vegetarian or vegan choices, as well as a variety of tools, programs and events designed to make it easy for students to select balanced food choices and learn how they can establish and maintain lifelong healthy eating habits.
"One of the most frequent requests we hear from UHV students is for more lower calorie and lower fat menu options," said Christina Barrera, Jaguar Hall Dining food service director. "The Healthy for Life program not only makes those offerings available, it also provides an important educational component. While students are more in tune with nutrition these days, I think the tools and events will help further their understanding."
Information about the healthy lifestyle program will be featured in the expanded Jaguar Hall Dining area. The $800,000 summer expansion project increased the size of the seating area and added room for additional food stations and a new grill. The produce area is twice as large as before.
The Healthy for Life program was piloted on more than 30 college and university campuses. ARAMARK found that Healthy for Life helped students gain a better understanding of food and empowered them to make balanced food choices. Feedback from participants at pilot locations emphasized that Healthy for Life works because it's a lifestyle program, not a diet program.
ARAMARK Healthy for Life builds on proprietary research as well as global health trends that focus on wellness, good nutrition and healthy lifestyles. More than 75 percent of students surveyed by ARAMARK in the past year indicated they are striving to be careful about what they eat and want to know how to make better nutrition and lifestyle choices.
The Healthy for Life program elements include:
CampusDish Nutrition Smartphone App – This free tool can be downloaded by smartphone users to quickly and easily search and view menus by location, item and nutritional content.
Healthy for Life Wellness Center – Located in Jaguar Hall, this digital wellness center serves as a central location for nutrition and wellness information on campus.
Just4U Nutrition Messaging – This menu labeling system features bright, colorful, easy-to-identify, leaf-shaped icons to alert students to foods that are low in fat, 500 calories or less, organic, locally grown, low sodium and steamed.
Special Events and Promotions – Throughout the school year, on-site health fairs, healthy food sampling events, cooking demonstrations by ARAMARK chefs and wellness workshops with ARAMARK dietitians will take place to continuously encourage students to eat well.
To watch a video about the program, visit www.youtube.com/watch?v=BEAvm9dFFTk.
The University of Houston-Victoria, located in the heart of the Coastal Bend region since 1973 in Victoria, Texas, offers courses leading to more than 80 academic programs in the schools of Arts & Sciences; Business Administration; and Education, Health Professions & Human Development. UHV provides face-to-face classes at its Victoria campus, as well as an instructional site in Katy, Texas, and online classes that students can take from anywhere. UHV supports the American Association of State Colleges and Universities Opportunities for All initiative to increase awareness about state colleges and universities and the important role they have in providing a high-quality and accessible education to an increasingly diverse student population, as well as contributing to regional and state economic development.