Close
UHV senior turns clay into art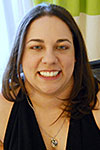 Megan Perez
Some people take to the beach for refuge, while others seek solace in cozy corners with good books. For University of Houston-Victoria senior Megan Perez, relaxation comes in getting her hands messy.
Perez enjoys powering up the pottery wheel, firing up the kiln and bringing ideas to life in the ceramics studio.
"I love getting in there and just working with the clay," she said. "I'm in there whenever I can be."
Perez credits a Victoria College art associate professor for giving her a start in ceramics. The two met volunteering with the Texas Zoo and bonded over a love of all things art.
The rest, as they say, is history. Today, Perez is in the studio a minimum of 12 hours per week, honing in her hobby. She makes a variety of mugs and recently began molding bottles.
Her work extends beyond Victoria as her Etsy shop, Fire Spun Ceramics, allows her to market her products all over.
Still, it wasn't always smooth sailing. The 26-year-old said it took her a while to catch onto the craft.
"That first semester, I thought I was horrible," Perez said. "It took a while for me to really get the hang of it. They say it takes 10 years to become a master potter, so I'm getting there."
The Victoria native graduated from Memorial High School in 2005 before moving on to UHV, where she studies business administration.
And ceramics aren't her only interest away from the classroom. Perez said she enjoys baking, and harbors a love of animals.
During high school, she volunteered at the zoo, first serving as junior keeper and later as junior teacher. The experience was a chance to hone her speaking skills and teach others about wildlife.
Looking forward, Perez isn't quite sure what her future holds.
Her time at UHV is nearing its end – she plans to graduate in December – but she has yet to decide exactly what to pursue after college.
She enjoys her current work with the university computer labs and might consider doing something along those lines. Eventually, she hopes to have a pottery studio all her own.
Regardless of what happens, she said she looks forward to the days to come.
"I'm ready to move on and take that next step," she said. "I'm excited."
I am a Jaguar is an online feature highlighting the exceptional students who attend the University of Houston-Victoria. To nominate a student, contact
Paula Cobler
, UHV director of marketing and communications, or call 361-570-4350.
The University of Houston-Victoria, located in the heart of the Coastal Bend region since 1973 in Victoria, Texas, offers courses leading to more than 80 academic programs in the schools of Arts & Sciences; Business Administration; and Education, Health Professions & Human Development. UHV provides face-to-face classes at its Victoria campus, as well as an instructional site in Katy, Texas, and online classes that students can take from anywhere. UHV supports the American Association of State Colleges and Universities Opportunities for All initiative to increase awareness about state colleges and universities and the important role they have in providing a high-quality and accessible education to an increasingly diverse student population, as well as contributing to regional and state economic development.