Close
UHV receives Alcoa Foundation grant for math, computer science, robotics programs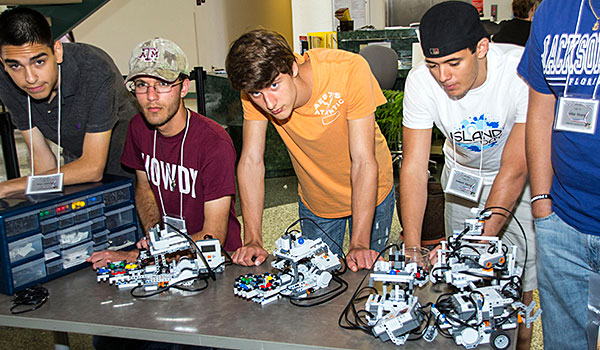 Area high school students demonstrate their robots during the 2013 University of Houston-Victoria/Victoria College Math & Computer Science Awareness Day. The students built the color-sorting and launching robots as part of a yearlong after-school program hosted by UHV and funded by Alcoa Foundation.
Area high school students will once again have access to University of Houston-Victoria math, computer science and robotics outreach programs thanks to a recently awarded $20,000 grant from Alcoa Foundation.
The grant funds the UHV/Victoria College Math & Computer Science Awareness Day, as well as a robotics and simulation yearlong course and summer camp for high school students.
These programs provide much-needed access to areas of education that are underrepresented in the Crossroads region, said Jeffrey Di Leo, dean of the UHV School of Arts & Sciences.
"There are not a lot of opportunities for high school students to learn about math and computer science outside of the classroom," he said. "These programs not only give them extracurricular access to these subjects, but also the chance to engage with like-minded students and area professionals who can guide them to a future career."
Ben Kahrs, the location manager at Alcoa Point Comfort Operations, said the company is proud to once again partner with UHV and Victoria College on a grant to promote science, technology, engineering and mathematics education.
"Alcoa encourages young people to develop teamwork and problem-solving skills, and learn robotics through hands-on projects," Kahrs said.
For nearly 20 years, the UHV/VC Math & Computer Science Awareness Day has brought together area students for competition and networking. The event centers on written math and computer science tests. It also includes two team game show competitions, robot demonstrations and interaction with area professionals. The 2014 event will be March 18.
For the third year, Alireza Tavakkoli, an assistant professor in the UHV School of Arts & Sciences and director of the university's digital gaming and simulation program, will be meeting with six area high school students once a week to teach them about robotics and digital simulation. The students will use advanced LEGO robotics kits and computer programming software to build various robots that can navigate a maze or sort and launch colored balls. The after-school program will begin in October and run through the end of the school year.
The summer camp in June will be similar to the yearlong program in that students will have the chance to build robots and learn how to use artificial intelligence programming. They also will learn how to build electronic circuits and digital simulation environments.
The weeklong camp includes the option of staying in a UHV residence hall but is not a requirement. The grant from Alcoa Foundation includes six scholarships that will cover residence hall fees for campers who live outside of Victoria.
"I would like to extend my sincere gratitude to Alcoa Foundation for its continued support of this multifaceted program," Tavakkoli said. "Through this program, we are able to reach a large number of students in the region and give them a unique opportunity to participate in a long-term robotics project, to engage in a rigorous after-school academic endeavor, and to celebrate and compete in the annual mathematics and computer science awareness event."
The University of Houston-Victoria, located in the heart of the Coastal Bend region since 1973 in Victoria, Texas, offers courses leading to more than 80 academic programs in the schools of Arts & Sciences; Business Administration; and Education, Health Professions & Human Development. UHV provides face-to-face classes at its Victoria campus, as well as an instructional site in Katy, Texas, and online classes that students can take from anywhere. UHV supports the American Association of State Colleges and Universities Opportunities for All initiative to increase awareness about state colleges and universities and the important role they have in providing a high-quality and accessible education to an increasingly diverse student population, as well as contributing to regional and state economic development.