Close
Mattress Mack gives inspirational speech to UHV business students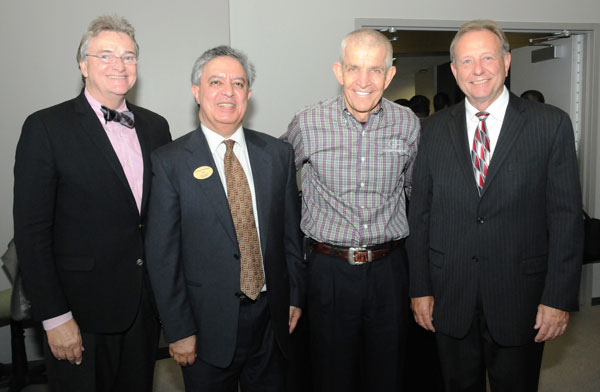 Jim McIngvale, founder and owner of Gallery Furniture, second from right, poses for a photo with Phil Castille, University of Houston-Victoria president, left; Farhang Niroomand, dean of the UHV School of Business Administration; and Richard Phillips, associate vice chancellor for UH System initiatives. McIngvale, better known as Mattress Mack, spoke during the Sept. 25 Willis Group Distinguished Speaker Series in Sugar Land.
SUGAR LAND – Jim McIngvale, founder and owner of Gallery Furniture, was asked during a recent University of Houston-Victoria School of Business Administration event why his company has always offered same-day delivery.
McIngvale, better known as Mattress Mack, replied that in the early years of his business, he was so afraid customers would change their minds that he would put the purchased item in a pickup and follow them home to deliver it.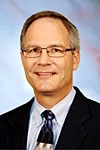 Jeff Blodgett
When students look at successful companies, they don't always see the trials and tribulations the founders of those companies go through, said Jeff Blodgett, associate dean of the UHV School of Business Administration.
"Everyone sees Mattress Mack on TV and the pictures with him and celebrities, but it wasn't always that way," Blodgett said. "He talked about the uncertainty of whether the store would make it and how when he came home at night, his wish was to stay open for one more day. It took him 10 years before he knew the business would sustain itself. It's a good lesson for our students about work ethic and perseverance."
McIngvale spoke to an overflow crowd of UHV students, faculty, staff and Fort Bend County business leaders Sept. 25 at UH Sugar Land during the latest installment of the Willis Group Distinguished Speaker Series.
McIngvale was hospitalized the day after the event for an abnormal heartbeat, but he appears to be well on the way to recovery, even joking around about a recent medical procedure.
"Had my heart shocked into rhythm at Texas Heart, and you'll be shocked at how fast Gallery Furniture delivers your Made in America solid wood furniture and Tempurpedic sleep set today," he wrote in a Facebook post Monday. "Thank you all for your support."
McIngvale, who started out selling furniture under a tent along Interstate 45 in Houston, founded Gallery Furniture in 1981. A highly acclaimed entrepreneur, McIngvale is known as an innovative marketer, and his two Houston stores offer unique shopping experiences. There are indoor playgrounds for children, exotic birds perched throughout the stores and monkeys in cages. Shoppers also can enjoy free ice cream or cookies, and look at sports memorabilia.
Farhang Niroomand, dean of the UHV School of Business Administration, thanked McIngvale for sharing his experiences.
"His story certainly is inspirational, and he also provided valuable business lessons for budding entrepreneurs," Niroomand said. "We've been blessed to have several very good speakers through the Willis Group series, and that certainly continued with McIngvale. We wish him a speedy recovery, so he can get back to doing what he loves."
Blodgett said McIngvale was a dynamic speaker and used a lot of energy in his presentation. One question asked by an audience member was where McIngvale draws his inspiration.
"He responded by saying he enjoys working," Blodgett said. "Financially, he doesn't necessarily need to work anymore, but he draws his energy from working with customers, running the business and knowing that he is providing good-paying jobs for his employees."
McIngvale also talked about the importance of lifelong learning. He always is reading books about business and recently hired a book author as a consultant, Blodgett said.

Stephanie Solansky
Stephanie Solansky, a UHV associate professor of management and chair of the Management Department, said McIngvale inspired a packed room to embrace learning and follow his lead in achieving the American dream.
"It was such an honor to have Mack illustrate the strategic renewal his company is experiencing based on its data-driven research and decisions, which are paramount in an organization's transformation process," Solansky said. "We are blessed to gain this insight from a man who inspires his employees to continuously adapt to the trends of the market and who inspires the Greater Houston community through his gracious philanthropy."
The Willis Group Distinguished Speaker Series brings in local executives to discuss contemporary business issues. The Willis Group includes multiple companies that address a variety of business staffing needs and solutions. Through its agreement with the UHV School of Business Administration, the Willis Group creates opportunities by providing business students with professional development and career placement assistance, supporting faculty research and classroom instruction, and actively participating in events to promote the success of the business school and its students.
The series began in 2011. Past speakers have included Houston-area executives in the health care, oil and gas, real estate and staffing industries, such as Farouk Shami, founder and chairman of Farouk Systems; Steven Kaufman, president of Zeus Mortgage; and Herber Lacerda, president and CEO of Regency Nursing & Rehabilitation Centers.
The University of Houston-Victoria, located in the heart of the Coastal Bend region since 1973 in Victoria, Texas, offers courses leading to more than 80 academic programs in the schools of Arts & Sciences; Business Administration; and Education, Health Professions & Human Development. UHV provides face-to-face classes at its Victoria campus, as well as an instructional site in Katy, Texas, and online classes that students can take from anywhere. UHV supports the American Association of State Colleges and Universities Opportunities for All initiative to increase awareness about state colleges and universities and the important role they have in providing a high-quality and accessible education to an increasingly diverse student population, as well as contributing to regional and state economic development.